Monday, September 1, 2008
Flying In Israel
The historic region comes alive with Roman ruins, harsh deserts and lush agriculture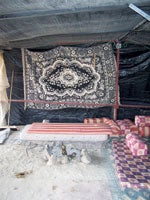 The pilot's lounge at Masada Airport, adjacent to the Dead Sea, offers a tent, Persian rugs and low couches. The Israeli equivalent of a $100 hamburger includes hummus, cheese, fresh veggies and sweet tea.
As we circle one of the numerous Roman-ruin sites, the conversation turns to other comparisons with the United States. Binnun explains that, in addition to the annual inspection on his airplane, regulations require that it also undergo all of the scheduled maintenance called for in the manufacturer's service manual—specifically, the 50-, 100- and 200-hour inspections. Also, when he parks his airplane, he must lock a heavy steel "boot" arrangement to the nosewheel, in compliance with some bureaucrat's idea of security.
As evening draws near, we fly south along the Mediterranean coast, not wanting the magical experience to end. Binnun has one more surprise—a touch-and-go at Sde Dov Airport, where I get the incredible vista of a 500-foot-tall smokestack only about 200 yards away from the thresholds of two of the runways. It's a small country, and sometimes that means unusual juxtapositions.
Finally, it's back to Herzliya where, on final, I see that airplanes are crowded cheek by jowl, a reminder that general aviation is very much alive here.
From Roman ruins to lush agricultural land and from harsh deserts to the lowest spot on the planet's surface, Israel is a true delight to experience. And the best way to get a feel for this small country in a short time is in a general aviation airplane.
Contact Moon Air Aviation (
www.moonair.co.il
) at Herzliya Airport to get more information about charter flights over Israel.
Page 3 of 3