Wednesday, September 1, 2004
Flying The Yukon Quest
Airplanes support a 1,000-mile sled-dog race through the toughest terrain on the planet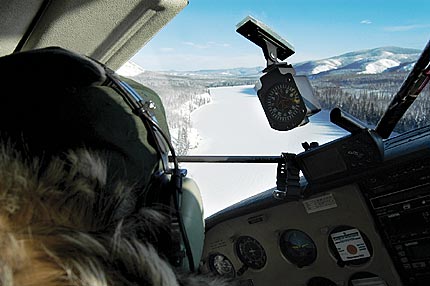 The sun isn't up yet and Gary Chamberlain is already on the phone, talking to flight service. The news isn't good. Circle City, a small checkpoint along the sled-dog race route based on the banks of the Yukon River, is reporting 20 to 30 knots of crosswind with blowing snow, the ceilings are low, and the temperature is stuck at 57 degrees F—below zero. All thirty-one mushers and dog teams left Fairbanks, Alaska, almost 30 hours ago for the Yukon Quest, a 1,000-mile trek across Alaska and Canada's Yukon Territory in February. For Chamberlain, it's not a matter of whether or not he's going to be able to make it into Circle City. It's just a matter of how.
For weeks before the start of what's billed as the "toughest dog race in the world," Chamberlain and a group of volunteer pilots, all loosely referred to as the Yukon Quest Air Force, have flown the race route, hauling officials, extra fuel, survival gear, medical supplies and a potpourri of odds and ends required to make the international event possible. Several of the checkpoint destinations are accessible only by ski plane or the occasional snow-machine rider willing to wager against the wilderness and the 100-plus-mile intervals along the race route.
Chamberlain's flying skills and his wheel-ski-equipped Cessna 185 have evolved from several years of backcountry flying. Keeping the airplane and the instruments warm in the extreme temperatures is job number one. His C-185 has two heaters under the cowling, and a third inside the cockpit to keep the instruments warm. The cockpit has three GPSs, and in addition to the normal VHF radio stack, he's also equipped with FM and HF capabilities. "I can literally talk to people from Los Angeles from the Yukon Territory," he says. At one time or another, Chamberlain's talents and each of the aircraft's systems will come into play in what may be some of the most challenging flying in the world.
Over the years, Chamberlain has become anal about the care required to make his airplane operate safely in the bush. Engine preheat isn't even negotiable (and by the way, despite the harsh conditions, his engines always make TBO). When he shuts down for the night, he slides a set of large, custom-made covers over his wings, elevators and prop blades, just to make sure there's no possibility of ice or snow when it comes time to fly in the morning. Like most pilots who fly the North, he also wraps a heavily insulated blanket around the cowling to make sure the engine heaters can do their best work.
"The biggest thing we fight is the cold," he says. "Sometimes, no matter what you do, it's just too cold to fly. Everything gets so brittle they just break off in your hand—door handles, ailerons. You just have to wait until things warm up."
Page 1 of 6