Wednesday, September 1, 2004
Flying The Yukon Quest
Airplanes support a 1,000-mile sled-dog race through the toughest terrain on the planet
"Last year [during the Quest], we lost two airplanes because of the cold," continues Chamberlain. "One guy had to dead-stick his Cub onto the ice on the Yukon River."
It was Chamberlain who went in with his C-185 ski plane to rescue the downed pilot. "It wasn't very much fun. The river was full of jumble ice [large chunks of uplifted ice the size of a pickup truck along the frozen river], and I was afraid we were going to end up being stuck down there. But that guy wouldn't have survived the night. So what were the choices?"
"This kind of flying up here is not for some yoyak," says Chamberlain seriously, referring to aviation's uninitiated. "Lots of days, I might not get any higher than 200 feet. When the visibility gets tough, you have to slow the airplane down. You change altitudes once you start making ice, and you're poking around, looking for a way through. You have to think of rate and radius, because if you find you can't get through this canyon, you need room in order to turn the airplane around," says Chamberlain as he uses his hands to describe a time-honed maneuver that he has learned from decades of experience. "Then, I'll try it all over again in the next canyon and then maybe the next canyon, until I make it. The thing I hate is when the weather closes things off in front of you and behind you. You may have to set her down for a few days and wait things out."
After what would have normally been a 45-minute flight, Chamberlain finally makes his way into Circle City two and a half hours later. Terrain and weather also have taken a toll on the racers, many of whom have come from the far reaches of the world to compete. When asked how the Quest compares to its more famous counterpart, the Iditarod, one musher smiled and said, "The Iditarod is just a nice little camping trip. This is a real race."
Right before the end of the Yukon Quest's first day, a veteran musher, William Kleedehn, was taken to the hospital with a suspected broken leg, and by the time Chamberlain landed in Circle City, seven other mushers have scratched, less than a fifth of the way into the race. In fact, of the 31 teams who started in Fairbanks, only 20 will cross the finish line 11⁄2 weeks later in Whitehorse, Yukon.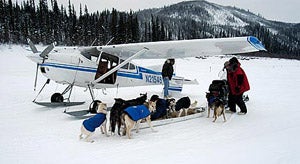 Several of the checkpoints along the trail are accessible only by ski plane. Dogs dropped from the race at these locations are loaded into the back of Chamberlain's Cessna and flown out to be reunited with their handlers.
In spite of the extremely cold weather, Chamberlain discovers that leader Zack Steer and his dogs already have left for Slavens cabin, little more than a shack a million miles from anywhere—but the next checkpoint along the way. Somebody has to get a veterinarian over there. Without any hesitation, Chamberlain motions for Vern Starks, a doctor of veterinarian medicine, to be loaded into the front seat of the C-185. When a Quest official questions the safety of the current flying conditions, Chamberlain looks out from under his beaver hat and wolf fur ruff, and then lowers his voice to a whisper. "I really don't know if you've heard, but this is more serious than perhaps you know. Slavens has gone Oscar Oscar Bravo," explains Chamberlain, his eyes narrowing.
When the official gives him a puzzled look, Chamberlain's face finally slides into a smile. "It's Oscar Oscar Bravo—out of booze."
Page 2 of 6