Wednesday, September 1, 2004
Flying The Yukon Quest
Airplanes support a 1,000-mile sled-dog race through the toughest terrain on the planet
Another pilot on frequency hails Chamberlain. "Hey, Gary, you know, they've started adding Viagra to the whiskey there in Dawson, eh."
"No, I hadn't heard about that," answers Chamberlain.
"Yeah, that way, you can always pour yourself a stiff one."
"That's very good to know," chuckles Chamberlain. "I tried taking a Viagra once, but it got stuck in my throat. Had a stiff neck for a week."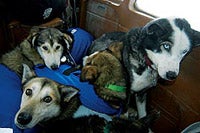 Dawson City is roughly the mid-point along the route from Fairbanks to Whitehorse. It's a picturesque little village on the banks of the Yukon River and, in many ways, unchanged from its days as the epicenter of the Klondike gold rush in the 1890s. Race rules require a 36-hour layover for mushers and their teams, and most of the Quest's Air Force ends up there for some much deserved R&R as well.
As Chamberlain banks to enter the pattern at Dawson, a call comes over the radio from race marshal Mike McCowan. Musher Rod Boyce left for Dawson 49 hours ago and hasn't been heard from since. That's about twice the time it normally takes to make that part of the run, and the Quest official requests the initiation of a search and rescue. Chamberlain adds power and turns back to the trail.
"Airplanes make a huge difference in our SAR efforts," says McCowan. "You can cover so much more ground than any other way."
In a previous race, a musher took a wrong turn and was lost for five days. "It was an unbelievably huge area to try and cover without airplanes," says McCowan. The racer was eventually found alive, even though his survival supplies were nearly exhausted.
During another time, a musher was thrown off his sled and knocked unconscious. His dog team continued without him. The musher was finally located and a ski plane tracked the dogs, landed in the snow and stopped them from certain demise in the Yukon wilderness.
But even searching for lost mushers from the air isn't foolproof. Fresh snow can quickly cover any tracks, and winds can change the whole look of the landscape in no time. At the end of the short Arctic daylight, Chamberlain hasn't found the missing musher and is forced to return to Dawson.
The paved but snow-packed runway at Dawson City serves as a gathering spot for other members of the Yukon Quest Air Force, the majority of whom are operating on wheels. Earl Malpass for North Pole Alaska is there with his Cessna 206, Canadian pilot Gerd Mannsterger with a Found Bush Hawk, Ken Loeser in a Seneca, and Kent Owens in a Cessna 170.
Page 4 of 6