Tuesday, February 5, 2008
Gathering Of Mustangs
The Final Roundup

It's perhaps the most iconic military airplane in the history of aviation. Regardless of its real talents (and they're considerable), the North American P-51 Mustang has achieved a status among fighters unmatched by any other aircraft. It may not have been the fastest, best armored, most maneuverable or longest ranged when it was in service in both the Atlantic and Pacific theaters, but it's still generally regarded as the world's best, all-around piston fighter." />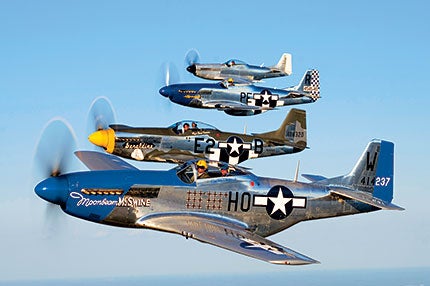 It's perhaps the most iconic military airplane in the history of aviation. Regardless of its real talents (and they're considerable), the North American P-51 Mustang has achieved a status among fighters unmatched by any other aircraft. It may not have been the fastest, best armored, most maneuverable or longest ranged when it was in service in both the Atlantic and Pacific theaters, but it's still generally regarded as the world's best, all-around piston fighter.
So imagine the joy of warbird lovers and Mustang fans at seeing 78 P-51s in the same place at the same time. That's exactly what happened last September in Columbus, Ohio.
The Gathering of Mustangs and Legends was conceived by Lee Lauderback and Angela West of Stallion 51 (www.stallion51.com) in Kissimmee, Fla. Lauderback and West run what's perhaps the premier Mustang transition school, teaching new P-51 owners and anyone with the inclination and the talent to fly the world's best prop fighter. The Gathering was an opportunity for Mustang owners, pilots and fans to come together and compare notes on what's certainly the world's most famous piston fighter.
Page 1 of 4