Tuesday, February 5, 2008
Gathering Of Mustangs
The Final Roundup

It's perhaps the most iconic military airplane in the history of aviation. Regardless of its real talents (and they're considerable), the North American P-51 Mustang has achieved a status among fighters unmatched by any other aircraft. It may not have been the fastest, best armored, most maneuverable or longest ranged when it was in service in both the Atlantic and Pacific theaters, but it's still generally regarded as the world's best, all-around piston fighter." />
The 2007 Gathering was staged 10 miles south of Columbus, at the old Lockbourne Army Air Base, which is now known as Rickenbacker International Airport (named for famous WWI ace Eddie Rickenbacker). More than 200,000 people attended the four-day worshipfest, and the show exhibits far more than simply P-51s.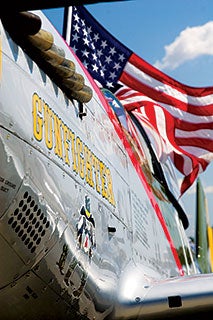 For their part, the Air Force was celebrating its 60th anniversary and participated with everything from the USAF Thunderbirds, the F-15 Eagle, F-16 Falcon and, perhaps most impressive of all, the F-22 Raptor. The Raptor's vectored-thrust technology allows it to do things most of us thought were impossible for a jet fighter. The announcer agreed, as he alluded to additional talents with the comment that "other maneuvers are classified."
There was a variety of other warbirds on hand, some on static display and others participating in the flybys. Among the planes were two of the world's three flying P-38s, two P-47s, a number of P-40s, a P-63, a pair of B-25s, a C-47, two B-17s and even an Avro Lancaster. Many of these aircraft participated in Heritage Flights with the current-generation military jets, and others performed acro routines.
But the Mustang and its pilots were the primary subject of attention, and Lauderback put together an impressive series of displays of the type.
Several dozen Mustang experts, such as Bud Anderson, Bob Hoover, Robert Gruenhagen, Lee Archer and Frank Borman, were on hand to describe the airplane's flight characteristics and quirks. In addition to a number of flybys and aerobatic demonstrations, Lauderback and fellow Mustang expert Ed Shipley, a retired television executive, flew two-plane formation routines so tight, it looked as if the aircraft were chained together.

Imagine the joy of warbird lovers and Mustang fans at seeing 78 P-51s in the same place at the same time.

(Back in June 2007, I spent two weeks with Shipley and Steve Hinton on the attempted flight of Rod Lewis' P-38 Glacier Girl to Duxford, England, and the delivery of the freshly built TF-51 Miss Velma. Hinton's Planes of Fame Museum team in Chino, Calif., built up the TF-51 with parts from several dozen other aircraft, and Shipley piloted the airplane to England. Though Hinton had a problem with the P-38's right engine over the Labrador Sea and had to return to Goose Bay, Shipley completed delivery of Miss Velma, often flying no more than five feet away from Lewis' Pilatus PC-12 on the trip across the North Atlantic.)
Page 2 of 4