Tuesday, February 5, 2008
Gathering Of Mustangs
The Final Roundup

It's perhaps the most iconic military airplane in the history of aviation. Regardless of its real talents (and they're considerable), the North American P-51 Mustang has achieved a status among fighters unmatched by any other aircraft. It may not have been the fastest, best armored, most maneuverable or longest ranged when it was in service in both the Atlantic and Pacific theaters, but it's still generally regarded as the world's best, all-around piston fighter." />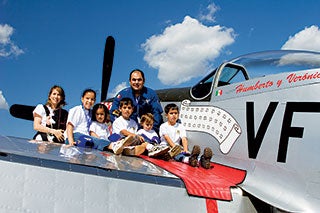 For Humberto Lobo (above), who owns the only Mexican-registered P-51, attending the event was a once-in-a-lifetime experience. He and his family made the journey from Monterrey, Mexico.
Accordingly, the original P-51 was conceived, built and test-flown in a mere 120 days in the late '40s. (The design wasn't totally new—it was related to the earlier A-36.) The Mustang was the first fighter to incorporate an NACA-developed, low-drag, laminar-flow wing with a nearly symmetrical airfoil. It also flew with 180-gallon wing tanks and an additional 85-gallon aft fuselage tank. In combination with twin, 75-gallon drop tanks, the Mustang offered an impressive six hours of endurance, a feature that was to serve it well on bomber escort missions over Germany later in the war.
Early Mustangs were delivered with a 12-cylinder, 1,200 hp, Allison V-1710 engine, but later, more successful versions featured the Packard-Merlin V-1650 powerplant, delivering 1,650 hp. The P-51 entered service in late 1942, eventually achieving fame as perhaps the most talented and charismatic fighter of WWII.
Better still, it earned the respect of virtually everyone who flew it and many who didn't (on both sides of the war). When the Allies launched bombing raids over Germany in 1942, there was no fighter capable of flying escort all the way to the target and back. The bombers suffered horrific losses until the P-51 entered service in significant numbers in 1943. Me-109 pilots who had once dominated the skies over Europe often found they'd met their match in the Mustang. The P-51's maneuverability and speed, coupled with a typical armament of eight 0.50-caliber machine guns provided a lethal punch that gradually won air supremacy over Germany.
Though there were something like 15,000 Mustangs of all types produced (at one point, North American was building an astounding 550 Mustangs a month), postwar demilitarization, accidents, normal attrition and the vicissitudes of time have decimated the type. Today, there are only about 130 Mustangs still flying, and prime examples now demand as much as $2.5 million, not bad for an airplane that sold new for $16,000.
That made the Mustang turnout at Rickenbacker all the more surprising. It was the most visible proof yet of a love affair between pilot and the airplane that remains a legend long beyond its own time.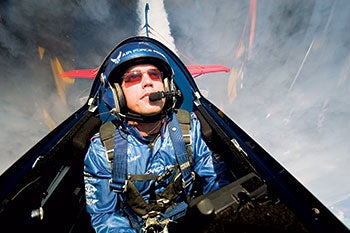 Happy 60th, U.S. Air Force
As if the Gathering of Mustangs and Legends didn't provide enough fanfare at Rickenbacker International Airport, the Air Force was also commemorating its 60th anniversary during Air Force Heritage Week. The Air Force had a strong presence in the daily air show, with everything from the F-22 Raptor to the Thunderbirds to Ed Hamill, a civilian air-show pilot sponsored by the Air Force Reserve Recruiting Service.
Having launched his aerobatic career in 1998, Hamill performs today in an Air Force Reserve Biplane, a highly modified Pitts S2-C. His awe-inspiring routine includes challenging maneuvers, such as low knife-edge passes, and his newest figure, "David's Tumble." When Hamill's not thrilling show crowds, he's a Major in the Air Force Reserve and an F-16 instructor at Luke Air Force Base in Arizona.
"It's very special to fly my Air Force Reserve Biplane during the 60th anniversary of the Air Force and I'm honored to be a part of the Gathering of Mustangs and Legends for the final roundup of these incredible heroes and their magnificent flying machines," says Hamill. "Flying a biplane to help recruit for the military is what the very first military demonstration teams did right after World War I, and I'm proud to continue that heritage."
The upcoming 2008 season marks the 60th anniversary of the Air Force Reserve, and Hamill will perform at more than 16 shows around the country. Learn more at www.edhamill.com and www.afreserve.com.
Page 4 of 4