Tuesday, May 20, 2014
Ghosts In The Machine
The Collings Foundation brings World War II history to life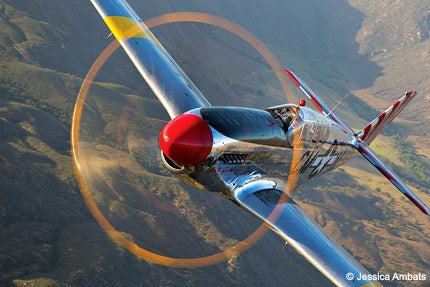 The Collings Foundation aircraft collection includes a North American P-51C Mustang and a Consolidated B-24J Liberator.
You can feel the history in these aircraft just by walking up to them. A B-24 Liberator sits just feet away from me, and already I can smell the heady aroma that all warbirds share. It's a mixture of fuel, oil, hydraulic fluids and the peculiar essence that only seven decades of flying impart on a machine. But, far from being a museum piece, this B-24 is going to fly today. In fact, just beyond the twin tail of the so-ugly-it's-beautiful liberator is the icon of World War II: the majestic B-17 Flying Fortress bomber, itself flanked by a gleaming P-51C Mustang. They all belong to the Collings Foundation (
www.collingsfoundation.org
).
Each year, in 110 cities across the nation, a caravan of these warbirds starts in Florida and follows the warmth and sun through the rest of the United States, offering rides and teaching regular folk about what it was really like during that granddaddy of all wars. The Collings Foundation is a nonprofit educational foundation that tours these aircraft as part of their "Living History" initiative. They enable Americans to learn more about their heritage through seeing, touching and experiencing these grand machines. We were in Ontario, Calif., hitching a ride to Long Beach for one of the warbirds' stops along their "Wings of Freedom" tour, the focus of the foundation since 1989.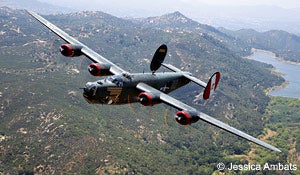 The goal of the foundation, which began in 1979, is to honor the sacrifices made by our veterans and to allow the younger generations to see firsthand how their freedoms today were made possible by the courage and sacrifices of those who came before them. The foundation encourages people to tour the planes, talk to the veterans who come to visit the aircraft and participate by paying for a ride (the Collings Foundation calls it a "flight experience"). The funds collected go right back into the foundation, allowing these beasts to be maintained and flown with an impeccable safety record. In 25 years, the tour has made more than 2,378 visits to airports across the United States and Alaska.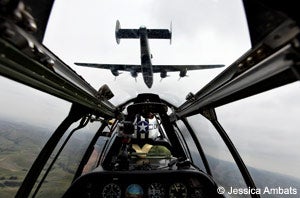 Nothing prepares you for flying in one of these behemoths. While the P-51 is nimble and fast, the bombers are lumbering giants, looking anachronistic in their olive drab paint and wartime appointments (like waist guns). But, these are the real deal, not some Hollywood reproduction. One can't help but think about those legions of fresh-faced 19 year olds from towns across America, saddling up to these machines for war, not knowing if they'd come back. It's chilling to think of those who didn't. And the sounds of these aircraft in all their radial glory is like a time machine, transporting you back to 1942.
The first thing that strikes you is the noise. Those four 1,200 hp round engines create a roar that's hard to forget and shakes you to your core. The aircraft are Spartan; they're pretty much just as they rolled off the assembly line all those years ago. They had little in the way of comfort, and their austere nature is a brutal reminder of what it must have been like to ride them into war. Once airborne—which seems like slow motion—the roar is replaced by cold. Even at 3,000 feet on a California spring day, it was cold. The wind whips into your every pore, leaving you in wonder as to how these crews flew for hours at 10,000 to 15,000 feet. There isn't a jacket made that will keep you from freezing.
Page 1 of 2