Tuesday, September 4, 2012
Golden Angel
Seventy-five years of the ultimate Flivver: celebrating the immortal J3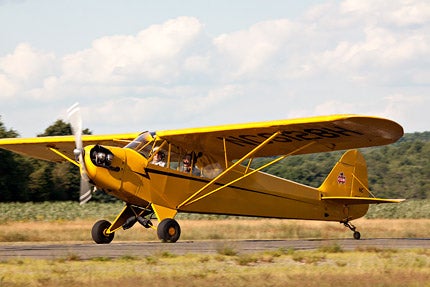 Ever since William T. Piper created the J-3 Cub in 1938, the low-and-slow two-seat fabric taildragger has won the hearts of pilots everywhere.
There's only one Cub, just as there's only one Wright Flyer, Joe DiMaggio or Golden Gate Bridge. Just to walk up to that wonderful, cheery, ever-ready assemblage of steel tubes, wooden or metal ribs, control cable turnbuckles and—perhaps most agreeably of all—to drink in the stolen-sunshine hue of Cub Yellow fabric that adorns the handsomely sculpted, tandem, two-seat taildragger, is to open your own personal page of aviation history.
There must be no more than one or two degrees of separation between any person on earth and the Piper Cub. William T. Piper's immortal J-3 is simply the lightplane everybody knows, whether they've ever parked their posteriors in one or not. Even for those who have never ridden in a light aircraft, the term "Cub" evokes anything small with wings that a private citizen can fly, as in this conversation once overhead at an automobile show:
"I flew for two hours today in a C-172."
"Oh, is that one of those little Cub things?"
The Piper Cub isn't the easiest airplane to fly, nor the fastest, nor the best-behaved in crosswinds...any crosswinds. Yet, arguably, no airplane teaches you more about three-axis flight than a Cub.
Even today, 75 years after its birth, many pilots who cut their flying teeth in "Wichita Tin" trainers regard Cub flying as a badge-of-honor challenge that must be answered...lest they consider themselves not quite "real" pilots.
And when you ask the question, "What's the one airplane that opened the sky to the American civilian pilot?," there are few, pilot and non-pilot alike, who would hesitate before answering, "Oh, that's gotta be the Piper Cub."
The year 2012 marks the 75th year since Mr. Piper created the one-and-only J-3 in 1938. (See sidebar for a highlight history.) A few still-active senior pilots were just kids when the Cub debuted to turn the skies yellow over farmland and skyscraper alike. Most of them took their first airplane ride in a Cub.

One Cub to train them all, One Cub to fly them, One Cub to thrill them all and in the blue sky bind them

Page 1 of 5