Tuesday, February 26, 2013
Islands In The Slipstream
Is this the best-kept half-hour getaway flight secret in the U.S.?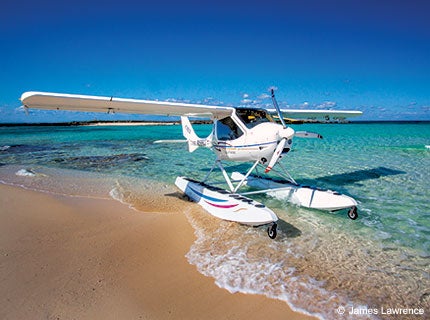 Tom Gutmann Jr.'s Flight Design CTLSi with beautiful composite Clamar floats rocks gently in the shallow surf of a lagoon between two uninhabited islands, a few miles flight south of Bimini. LSA that are water capable get an additional 110-pound weight allowance (1,430 pounds total) from the FAA.
Many things draw people from around the world to the 700 islands that make up the Commonwealth of the Bahamas, off the southeastern coast of Florida. For me, it's the water, the sky and how an LSA flies through it.
Always, there's the sea that wears the islands like jewels. The waters astonish in their clarity and gradations of stunning color, from palest crystal aquamarine, through teal and rich shades of turquoise, to settle finally further offshore over deep seabed chasms into notes of profound cerulean and indigo that reverberate through your soul like a chorus of symphonic bass notes.
The Bahamas are, for a photographer like myself, like an astonishing set of paints to play with. You can imagine my frustrations then when nagging clouds kept my camera on the ground for a good part of our trip. Even now, on our third day of the four-day LSA flyout from Florida, I stand amidst a famous ruin instead of plying the skies above: It's still cloudy.
Ernest Hemingway lived right here in room #1 of the Compleat Angler hotel. Now, all that's left of that favorite watering hole for large-living fishermen like "Papa" are a few burned-out fingers of crumbling cement, reaching into the leaden sky over Bimini Island. This landmark hotel, where the great writer and swaggering "man's man" of his day wrote stories and portions of the novel, To Have And Have Not, burned to the ground on Friday the 13th of January 2004.
But the island the literary lion loved, and upon which he wrote a good portion of his legend, is alive and well and beautiful as ever.
The Big Flyout
Our trip launched at 2 p.m. the last day of the 2013 Sebring Sport Aviation Expo. Strong winds, cloudy skies, and some rain and winter storms to the north kept some visitors and vendors alike from attending.
Mike Zidziunas, ("Mike Z" as he's known), began leading LSA flyout gaggles to the Bahamas in 2010. The first big trip, a rousing success, visited the islands 17 LSA strong. You can read how he made it happen in my story in an upcoming issue.
| | |
| --- | --- |
| Taxiing across a pristine shallow bay to meet up with an amphibian SeaRey on a sandbar. | Dan Nickens and Tom Gutmann (right) chat as only seabirds can: after a water arrival. |
Nine aircraft flew: a Beech B58 Baron, mid-restoration straight-tail Cessna 172, and seven LSA, including two amphibians (SeaRey and SeaMax), a floatplane (Flight Design CTLS) and four land-only birds (Flight Design CTLSi, Paradise P-1 and two Breezer IIs).
Page 1 of 5