Tuesday, February 26, 2013
Islands In The Slipstream
Is this the best-kept half-hour getaway flight secret in the U.S.?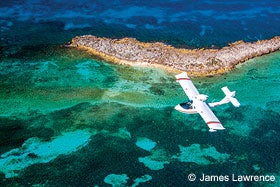 The sleek composite SeaMax south of Bimini.
From our room, my wife Tomma and I drank in the luxurious burning blues and greens of sky and water and sunset golds that lit up the day's-end cloud cover. The pace after the busy show began to slow.
I dared not ask anyone to fly a photo mission on our first full day. It was kickback time. Right across from our hotel, the Port Lucaya Marketplace served up a colorful bazaar of shops with all the shopping-worthy amenities you could want. Several restaurants made choosing where to eat a real challenge. There was even an open courtyard for dancing that we enjoyed one night after dinner.
The next day, an athletic young island man performed the limbo there. He magically contorted his body under a bar resting delicately atop two island-staple Kalik Gold beer bottles six feet apart, just eight inches high, without once touching the ground. Those bottles should have been Guinness: That was one record-worthy performance!
Our group enjoyed a genuine bonhomie sufficient to bring us together every night for shared meals. Wine and beer flowed; sumptuous ocean-caught meals disappeared from our plates.

The waters astonish in the clarity and gradations of stunning color, from palest crystal aquamarine, through teal and rich shades of turquoise...

After one full day, we climbed aboard our planes to head to the Bimini Big Game Resort, a comfortable lodging place right on the interior bay of Bimini Island.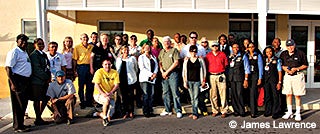 Pilots and airport staff in Grand Bahama.
I began to fret that the air-to-air shooting I craved might never happen when another overcast departure—this time with Dan Johnson in his new four-partner-owned CTLSi—scratched my hopes for photography. Grrr!
Bimini is a smaller island than Grand Bahama but has its own airport with a commuter plane-capable 5,409-foot runway. Wicked 90-degree north crosswinds spilled over the trees lining runway 09 that afternoon. Everyone gathered later at the hotel bar for another cheery reception from Bahamas Tourism and to share some war stories of challenging landings.
Johnson pulled off our landing with great skill, but it was a nasty roller-coaster ride the last 50 feet to touchdown. Others reported at least one go-around; it doesn't get much tougher than that day.
Page 3 of 5