Tuesday, February 26, 2013
Islands In The Slipstream
Is this the best-kept half-hour getaway flight secret in the U.S.?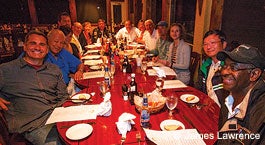 Final dinner gathering at the Bimini Sands Resort.
Rofe and Rathmell spent a lot of money getting the SeaMax over just to be part of the action. Weather had prevented Rofe from flying the SeaMax to the Expo. He went home, flew the SeaMax to Florida from his Long Island, N.Y., home, filed his first flight plan ever in the process, and joined us the last evening we were there. Talk about determination.
Such stories weave common threads into the tapestry of pilot lore. These flying brothers happily and without complaint, banded together for my camera. Each demonstrated how versatile and nimble LSA are for close work, and reminded me how important good flying skills, constant communication and a willingness to be part of the fun are part of that special bond pilots share. To them I say, thank you, one and all.
Home, James, And Quickly
Returning to the U.S. aboard a Beech B58 Baron, owned and superbly flown by Mark DuCorsky and his wife Paula, we landed at Ft. Lauderdale after a 30-minute flight and breezed through customs.
Later, we cruised toward Sebring above the vastly different landscape of central Florida's Everglades and immense farmland rectangles. My mind drifted back to those islands in our slipstream, to the amazing colors of the water, to these wonderful LSA we're privileged to fly.
Do yourself a huge favor: Take an LSA trip to the Bahamas one of these days. Find out what sport flying is really all about.
Bahama Flyout ABCs
When I first contemplated flying to the Bahamas, the very idea of all that imagined paperwork was daunting. Mike Zidziunas and the Bahamas Tourist Office have made it a non-event.

In truth, other than needing to get permission to fly around in Bimini's large interior bay, which Leonard Stuart did in time accomplish for us, everything was straightforward.

Here's a brief rundown of what's required to slip the bonds of our national airspace:



1.

File a flight plan.


2.

File an e-APIS manifest for both outbound and inbound U.S. flights online at www.eapis.cbp.dhs.gov. Follow the directions closely, and it's a piece of cake.


3.

Carry a Coast Guard-approved life jacket for each person onboard. Most of us wore ours over and back.


4.

Activate your flight plan before leaving Florida by radio.


5.

After launch, contact Miami Center for flight following and a discrete squawk code for your transponder.


6.

On approach, close your flight plan with Nassau radio, or by phone at the AOE after landing.


7.

You must land at an AOE to clear customs and immigration. For us, it was Grand Bahama International Airport, but there are dozens in the islands.


8.

Turn in three copies of the C7A general declaration form and a Bahamas Immigration Card (one per person.) The C7A gives you permission to fly your airplane among the islands.

Returning to the U.S. is pretty much the same drill: File the e-APIS manifest and file a flight plan. Next, call U.S. Customs at an AOE (Florida has 11, including Ft. Lauderdale, Miami and Orlando) from the islands by phone before you take off. Then, leave the Bahamas from an AOE and activate your flight plan. Next, get the discrete squawk code by radio and land in the U.S. Last, clear customs and close your VFR flight plan.

Although returning to the U.S. requires a little more scheduling precision, such as filing your flight plan within an hour of your actual takeoff, no one on our trip had the slightest problem.

For complete information on how to join the fun, including the latest 2012-2013 Private Pilot Guide, Bahamas VFR Flight Planning Chart and more, visit the Bahamas Tourist Office online at www.bahamas.com/flying and contact LSA Flying Ambassador Mike Zidziunas at www.breezeraircraftusa.com.
Page 5 of 5