Friday, September 1, 2006
It's Aerotrekking
Coming to America in a big, big way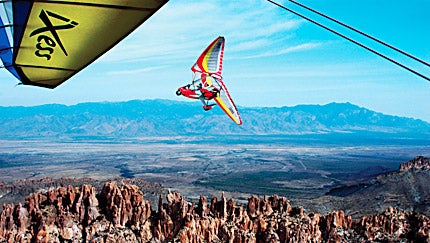 Out the window, there's not a hint of light on the horizon. Inside, the room is dark except for the glow of the computer screen on John McAfee's face. "Winds aloft out of El Paso are from the northeast at 22," he says with a crinkle of his nose that pushes his glasses a little higher on his head.
Beside him, John Kemmeries transfers the Tucson International Airport AWOS to the speakerphone, where a similar "winds aloft" forecast plays to the room full of pilots. "That could trash the air coming off the ridgelines," Kemmeries frowns. In a lot of ways, this could be a typical early-morning preflight weather briefing. But it's not. This group of pilots, who refer to themselves as the "Sky Gypsies," is about to go aerotrekking.
In aviation terms, at least in America, it's a relatively new sport. Aerotrekking is the art of low-level flying in which an airplane follows the contour of the ground. Low level can translate to anything from flying in ground effect to floating hundreds of feet above a mountaintop. Though not specifically limited to kitewing aircraft with small Rotax engines on the back end, that's exactly what most trekkers fly. With speeds varying from 25 to 90 mph, enthusiasts report a sensation of being part of the landscape over which they fly, not simply observers suspended thousands of feet above it. And the great thing is that they can go almost anywhere.
"We're really explorers," McAfee says with a hint of idealism in his eyes. "I mean, if you think about it, most of us see just the few miles we can catch from either side of a road or highway, or the mosaic of land from the window of an airliner at 40,000 feet. With aerotrekking, we're seeing places where perhaps no one has been for the last hundred years, or thousand years, for that matter. It's very, very special what we do."
Page 1 of 3