Tuesday, December 16, 2008
Johnson Creek: Backcountry Fly-In Mecca
Once a year, this remote Idaho strip becomes Super Cub central
Mention the words "Johnson Creek" to any backcountry pilot, and he or she will give you a wide smile, nod in approval, and describe a place of rugged beauty and challenging flying. If the pilot owns a Piper Super Cub, he or she will also tell you about the Johnson Creek Fly-In.
Johnson Creek is a remote backcountry airstrip in the mountains of central Idaho. Once a year, Super Cub enthusiasts from all over the country gather there for a summer fly-in. It's a total-immersion experience of mountain-airstrip flying, camping, fishing and airplane admiration. It's a chance for like-minded pilots to peruse each other's airplanes and get ideas for new modifications.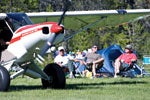 This year, 108 airplanes made the trek to the Johnson Creek Fly-In, including a few Cessna, Maule and Husky aircraft, but the Super Cub reigned supreme. Though you can drive to Johnson Creek, roads are prohibited around most other backcountry strips, where access is only by horse, foot or airplane.
Dave Kirsten, the event's original organizer and a Super Cub owner himself, says the idea for the fly-in was just to get a few pilots together. "The first year, it was just a few enthusiasts from the SuperCub.org website, and by the second year, we had nearly 100 airplanes," says Kirsten. The combination of the beautiful location and the much-loved airplane brings out an intense enthusiasm among the attendees. "Why a Super Cub fly-in?" I ask. "The Super Cub is the best backcountry airplane ever built," declares the current organizer, Eric Taliaferro. "In my mind, nothing else comes close." It's as if I had asked him why he breathes every morning.
| | |
| --- | --- |
| | |
Idaho is a unique treasure for backcountry pilots. Its system of some 60 remote airstrips is protected by federal legislation. The Wilderness Act of 1964 first created these protected wilderness areas, and, in 1980, the Central Idaho Wilderness Act firmly set aside most of these backcountry airstrips as protected resources that should always be available to the public. The legislation prohibits permanent roads or mechanized transportation, so getting to most of these strips by car isn't an option.
Page 1 of 2