Tuesday, October 22, 2013
Katmais And Cubs: A Desert Adventure
Two superb backcountry aircraft take on the Utah Canyonlands
CubCrafters Cubs |

www.katmai-260se.com, www.cubcrafters.com
The CubCrafters Carbon Cub is one of aviation's great triumphs. While the light-sport category is sometimes thought of as the realm of inexperienced pilots or those who don't want to go through an FAA medical exam, the truth is that the Carbon Cub is one of the most fun and versatile aircraft on the market today; in any category.

CubCrafters took the best features of the legendary Piper Super Cub and left out all the undesirable traits. While other manufacturers have their version of the venerable Piper J-3 Cub, the CubCrafters Carbon Cub is an aircraft with its own personality and character. The Carbon Cub has 50% less parts than the legendary backcountry Super Cub and is 350-400 pounds lighter.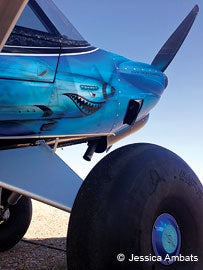 Lee Boyd's Carbon Cub stands out with a custom paint scheme that depicts a P-51D Mustang.

We had the privilege of flying alongside Lee Boyd's Carbon Cub during our Moab adventure that featured a custom paint job depicting a P-51D Mustang with a "shark mouth" normally attributed to the P-40s of the Flying Tigers in World War II. It turns out this was done because the Carbon Cub has a horsepower-to-weight ratio of just 7.33 pounds—nearly identical to the famed P-51. The shark mouth honors the memory of the P-51s that served in the 12th Fighter Bomber Squadron, 18th Fighter Bomber Group during the Korean War.

Steve Vidal's Carbon Cub, also in our backcountry group, had its own custom paint job that stopped people in their tracks. Vidal and Boyd's airplanes are the work of airbrush artist Mike DuSold, an intensely talented artist who works out of a ware­house in Lewisville, Texas, and has become the go-to guy for one-of-a-kind aircraft (and motorcycle, and car) paint schemes. If you saw Art and Charlotte Andersen's "Grizzly Cub" at this year's EAA AirVenture, with its flame-and-grizzly-bear motif, you saw DuSold's work. Scot Warren of Warren Aircraft in Denton, Texas, recommends DuSold (www.dusolddesigns.com) to his Carbon Cub clients looking for something nobody else has. His work is breathtaking.

Whether custom-painted or not, the Carbon Cub is the best-performing backcountry LSA out there. Landing and takeoff distance is unrivaled in the LSA world, and it can climb at more than 2,100 feet per minute at sea level and still be climbing at more than 1,100 feet per minute at 10,000 feet. One of our Carbon Cubs also sported the Catto composite propeller, which has been impressing backcountry pilots recently. The wood-core prop was developed by Craig Catto and is laminated with a glass/carbon composite for extreme structural integrity and amazing STOL performance.

The Carbon Cub pushes the LSA cruising speed limit even with 29-inch tundra tires. Its slow-speed handling is nimble and is mild-mannered even when landing on asphalt. With a listed takeoff roll of 60 feet and a landing distance of 245 feet, there aren't too many places you can't go.

More than performance, the aircraft feels safer due to its extraordinarily slow stall speed.

CubCrafters adds vortex generators to the wing for even better low-speed maneuverability. The roll-cage construction and AmSafe airbag seatbelt option adds peace of mind to an already brutish backcountry performer.
Page 6 of 8