Tuesday, April 10, 2012
Let's Go To Jamaica, Mon!
The TBMOPA demonstrates the real value of type clubs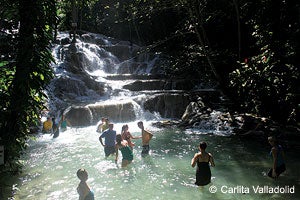 Dunns River Falls is Jamaica's most iconic waterfall. Each day, hundreds of people climb the falls, stopping to wade and swim in the deeper water.
"Turned out that wasn't all that easy to do," Walenz said, "so we, a group of more than 500 people, continued the conversation with Socata." The airframe manufacturer ultimately designed a whole new heated battery box that allowed for a quick disconnect. Problem solved.
Another time, the members of TBMOPA asked Socata to revisit a landing-gear overhaul concern. The factory called for a complete gear overhaul after seven years, which costs a juicy five-digit number to complete. TBMOPA worked with Socata to devise an interim maintenance schedule that has the effect of letting owners pay for an overhaul amortized over a handful of years as opposed to once in a very nasty annual. The factory also agreed to extend the gear-overhaul requirement to 10 years from seven, all benefits derived out of the Socata/TBMOPA relationship.
As time can do, it flew for the group of TBMOPA members and seemingly almost sooner than it began, the four-day getaway to Jamaica was coming to a close. Members exchanged their good-byes on the tarmac and talked about seeing each other soon. As part of its service, Air Journey had already filed all the group's flight plans and eAPIS for their return to the United States. One by one, the big turbine Pratts came to life.
As Jack Pelton prepared to board, one of the members yelled, "Hey Jack, so what do you think of the TBM now?" Pelton, now an honorary member of TBMOPA, and who already owns four airplanes—all made in America—looked almost sheepish as he answered, "I wish I had one!"
AIR JOURNEY
www.airjourney.com
Air Journey offers pilots of all skill levels the opportunity to fly their own airplanes to destinations around the world. All adventures have a professional journey director who handles customs, fueling, foreign flight rules and a multitude of other factors that can make anyone hesitant to fly by themselves.

"I think what made the real difference is providing a professional journey director for every trip," says Air Journey's Thierry Pouille. "Pilots tell me they're sometimes uncomfortable flying internationally because of language barriers, differences in aviation rules, customs procedures, etc. It really makes a huge difference to have someone with you who can handle all these things.
All that's left for you to do is fly your airplane and enjoy the trip."

Pouille's own wanderlust has inspired a continuing kaleidoscope of new destinations on Air Journey's manifest. For example, smaller general aviation aircraft can't fly to the Galápagos because there's no 100LL available there. Air Journey air-freighted drums of avgas to the local airport in the Galápagos, and Pouille's customers have been visiting those islands for three years in a row now. Air Journey wanted to bring its customers to visit Machu Picchu. The gateway airport in Peru, Cusco, is 10,855 feet in elevation. One of Pouille's customers was flying a TBM, the performance numbers in the manual stopped short of listing takeoff data for that elevation, and the Peruvians didn't want to let the airplane land. Pouille contacted Daher-Socata, which manufactures the TBM, and got them to calculate special information for his customer, and the Air Journey group went on to visit Machu Picchu without incident.

Air Journey also offers a concierge service for pilots who want to go by themselves as opposed to traveling with a group of other airplanes. All the required paperwork for international travel is supplied by Pouille's organization.

Trips with Air Journey range from simple long weekends in the Bahamas to 60+ day trips that circumnavigate the continent of Africa and South America. There's even an Air Journey trip that goes around the world. Yes, the entire world.
Page 5 of 5