Tuesday, January 24, 2012
Live With Your Airplane
An overview of residential airparks and fly-in communities
Alpine Airpark
Alpine, Wyo.
www.alpineairpark.com
Gateway to a four-season outdoor adventureland, Alpine Airpark (46U) in Alpine, Wyo., 30 miles south of Jackson, was founded more than 40 years ago. But it looked more than its age when Bill Wiemann, then scouting for a residential airpark to call home, bought it and began rebuilding in 2006. He resurfaced and widened the runway (5,850 feet), put in a fuel farm with avgas and Jet A, and economy be damned, began building homes—beautiful, rustic, upscale homes. In true "(air)field of dreams" fashion, they've come. Forty-eight of the 65 homesites have been purchased, and 42 homes built ($450,000 to $2.5 M), in addition to executive hangars with sleep-in facilities.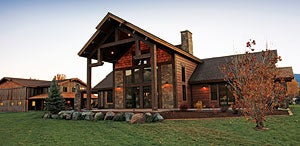 Alpine Airpark
"You can see the Tetons on final," Wiemann said. Residents are decidedly outdoor types. Set on the Palisades Reservoir where it's fed by the Snake River, residents go boating, fly fishing, mountain biking, cross-country skiing, snowmobiling and, of course, exploring the backcountry in bush planes.
The nation's largest Husky dealership (Wiemann's) is located here, and several residents learned about the airpark while shopping for Husky aircraft. Scot Cook, who lives here with wife Andrea and son Pete, is among them. Cook's aircraft fleet includes a Maule M5, Cirrus SR22 and Citation 501SP. With all the activities, what does he like best? "Absolutely, a sense of community," Cook said. Dennis Demers and wife Kathleen also discovered Alpine while Husky shopping, and now commute here from their home in Spruce Creek in a Citation CJ3. "We refer to it as a camp," he said of his Alpine residence. "That's how we use it." Stan Darkis stopped to visit a friend here while on an air tour of National Parks with some other pilots in 2008, and built a second home here that fall. He commutes from St. Paul, Minn., in a turbonormalized SR22, and flies his Husky with 31-inch bush tires while here. "Every day is an adventure," Darkis said. "Maybe you're out flying in the morning, come home at 10 o'clock, and someone decides it's time to kayak the Snake River, and you stop on a sandbar for lunch. And then there's fly fishing in the evening."
Big South Fork Airpark
Oneida, Tenn.
www.bsfairpark.com
Situated adjacent to Eastern Tennessee's 125,000-acre Big South Fork National River and Recreation Area, and with through-the-fence access to Scott Municipal Airport (KSCX), Big South Fork Airpark (BSFA) is "an equestrian community as much as an aviation community," said Bill Armstrong, one of the developers. "Our residents are outdoors folks. They love the idea of hiking, fishing in the river, camping and horseback riding. The idea that you can land your plane, taxi into your hangar, call the barn and have two horses brought to your home and go trail riding, that's pretty unique."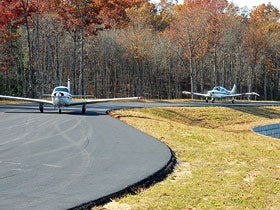 Big South Fork
Founded in 2006, today Phase I of the 450-acre development is complete: The equestrian center, welcome center, roads and utilities are in. Thirty of 55 homesites ($89,000-$280,000) are sold, and seven homes have been built. Karl and Connie Rogers of Nashville own one. "We looked at the place, and it was so serene. The air is so rich in oxygen, I thought, 'Why doesn't everybody who has an airplane think of this?'" Rogers said. An oncologist, Rogers came to flying relatively recently, and now owns a Piper PA46 Matrix he uses strictly for pleasure flying. But while flying brought him here, what the couple enjoy most about BSFA are "the incredible people who are my neighbors," Rogers said. "When everybody is there, it's like a big, happy community family."
Eventually, 142 homesites will be planned. For those who want to learn more about ownership opportunities, BSFA will host one of its quarterly Adventure Weekends on March 10-11, 2012. Guests will be put up in the Welcome Center lodge, tour the property, enjoy outdoor activities like ATV rides, fishing, horseback riding, and meet residents at a group dinner in the lodge.
Page 2 of 5