Tuesday, January 24, 2012
Live With Your Airplane
An overview of residential airparks and fly-in communities
Heaven's Landing
Clayton, Ga.
www.heavenslanding.com
NASCAR driver Mike Ciochetti intended to make Heaven's Landing, in northern Georgia's Appalachian foothills, his private fly-in retreat. But a crash at Talladega changed his career and his plans for the property. "We broke ground in 2001," Ciochetti said. Today, the 635-acre gated community is home to owners who arrive in everything from Piper Cubs and Stearmans to Citations and a Falcon 50. The 5,069-foot concrete runway (GE99) is overlooked by the 13,000-square-foot community clubhouse, which hosts regular gatherings like holiday and Superbowl parties, and has a fitness center and racquetball courts.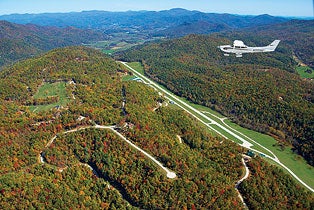 Heaven's Landing
Lots, some backing onto National Forest, are taxiable and nontaxiable. More than half the 300 homesites (all approximately 1.5 acres; $100,000-$275,000) have been bought. "The irony is, 90% of owners have purchased nontaxiable lots by choice—they prefer views and want a hangar on the field," Ciochetti said. Fourteen homes ($450,000-$2.5 M) constructed of natural materials and more than 40 executive hangars have been built. Just down the road are golf courses, Mayberry-esque downtown Clayton, and big-box stores.
For John Cokinogenis, a South African native, finding that combination near his adopted Florida home base seemed truly heaven sent. "For years, I was looking all over: Arizona, Colorado, Utah, Idaho, California—I never thought to look in Georgia," Cokinogenis said. "To me, it was flat. Then I went to have a look." He bought property here two years ago, and today has a house and three hangars for his Cessna 210, turbine Lancair, Glasair Sportsman and Panzl S-330 aerobatic airplane. Cokinogenis, who flies around the country servicing Walter turbine engines, and his wife now plan to make Heaven's Landing their primary residence.
Stop in on your way to or from Sun 'n Fun for Heaven's Landing's Top Off Your Tummy And Your Tanks promotion. "We'll take them to lunch in Clayton or feed them at the clubhouse," Ciochetti said.
Mountain Air Country Club
Burnsville, N.C.
www.mountainaircc.com
Mountain Air's breathtaking mountaintop runway in North Carolina (the highest public-use airport east of the Mississippi) makes this one of the most photogenic and recognized fly-in resorts. Residents and developers note this is more of a country club with fly-in access than a fly-in community: There are no hangars or runway access from homes, and most of the houses and condos are vacation properties. But the runway is the prime attraction for the many owners (about 25%) who fly in and out.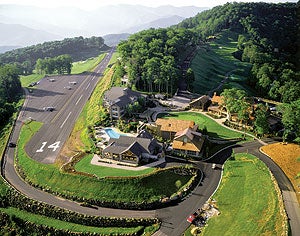 Mountain Air
"A lot of our pilots are professionals who like to have an escape and have very little time," said Becky Stiles, a sales agent. "It's just a wonderful means of arrival and departure. They leave their family here during the summer, and fly back and forth to work." In addition to golf and tennis, popular activities include hiking, fly fishing, white-water rafting and stargazing. "It's like camp for big kids," Stiles said.
The active Mountain Air Pilots Association raises money for local scholarships and other worthy causes, and has online video training tools for pilots who want to fly in to the 2,875-foot runway. (Nonresident pilots are required to carry $1 million in liability coverage.) About 600 homesites have been sold, with lots starting at about $100,000. Condos are priced from about $200,000, while homes range from $400,000 to more than $2M.
Insurance agent Buzz Tarver, who like numerous owners lives in Florida, bought a condo here with wife Colette five years ago after visiting during a local vacation. "I originally thought I'd be there two or three weeks a year. Then I started staying a month, then a month and a half," Tarver said, who often brings grown sons Jordan and Michael, who are also pilots. "The more we use it, the more we enjoy it."
Page 3 of 5