Tuesday, January 24, 2012
Live With Your Airplane
An overview of residential airparks and fly-in communities
Selected Residential Airparks
Every state in the U.S., except for Rhode Island and a few foreign countries, now have at least one residential airpark. Here are a few new and established fly-in communities worth considering when looking for a home where you can park your wings.



Aero Estates Airpark


www.aeroestatesairpark.com
A lighted 3,100-foot turf runway anchors this east Texas airpark on 21-mile-long Lake Palestine, which is home to more than 25 families. With prices starting at $18,500, more than 120 of the 170-plus available lots have been sold.



Airpark Costa Rica


www.airpark-costarica.com
Costa Rica is a nature lover's vacation paradise, and the 40-plus hangar home lots on this airpark—still under construction and minutes from the Pacific Ocean—could be the ideal base for aviators drawn to this tropical paradise.



Cannon Creek Airpark


www.ccairpark.com
This established and laid-back north central Florida airpark of 160 homes features a 3,500-foot paved runway and crosswind turf runway, and bargain avgas prices through the airpark's fuel club, with a few wooded and creekside lots still available.



Grass Roots Airpark


www.grassrootsairpark.com
Evoking the Golden Age of Aviation and established in 2005, Grass Roots' manicured turf runway caters to antique and vintage aircraft pilots, with 23 of the 31 homesites purchased, and two homes mimicking early 1900s architectural styles.



Holley Mountain Airpark


www.holleymountainairpark.com
Established more than 20 years ago and home to 25 families and 30 aircraft ranging from taildraggers to turbines, this airpark in Arkansas' Ozark Mountains boasts a 4,794-foot paved runway, an EAA Chapter and lots starting at $59,000.



Mazatzal Mountain Airpark


(928) 951-6625
This Arizona airpark provides through-the-fence access to adjacent Payson Municipal Airport ($15 per month fee), and features a very active population of homebuilders in the 35 homes now on Mazatzal Mountain's 111 half-acre lots.



Mount Royal Airpark


www.mtroyalairpark.com
Set on Florida's St. Johns River, Mount Royal is a boater's as well as aviator's paradise, featuring boat slips and gracious hangar homes in an estate-like setting, and with Phase III development underway, 19 lots are available.
SilverWing At Sandpoint
Sandpoint, Idaho
www.silverwingatsandpoint.com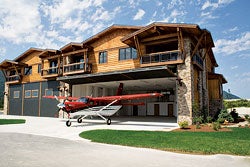 SilverWing At Sandpoint
Founded in 2009, SilverWing provides through-the-fence access to Sandpoint Airport (KSZT, runway 5,501 feet), a full-service municipal facility, from its upscale hangar homes. A four-season recreation mecca, Sandpoint is minutes from 43-mile-long Lake Pend Oreille, one of the deepest in the U.S., and the Schweitzer Ski Resort. The town's restaurants, shopping, schools and backcountry outfitters are within walking distance of SilverWing. Developer Michael Mileski said SilverWing appeals to "pilots who love recreation and the backcountry flying experience, while still being able to walk to the city from their fly-in residence for a great meal, or to pick up any item they may need to work in their hangar or cook dinner that night." Underscoring its backcountry flying appeal, Quest Aircraft, which makes the Kodiak turbine-powered bush plane, is headquartered adjacent to SilverWing. The development has 44 lots (three sold, three more in escrow), and its fully furnished model home and shell are completed. (A virtual tour of the model is available on SilverWing's website.) Lots start at $99,000, and buyers can build their own home or have SilverWing handle design and construction; the hangar and residential shell above it cost $80 per square foot. "You could build the 50x42-foot hangar and residential shell, and own the land for $435,000," Mileski said. "We believe the luxury of this residential unit and construction is unsurpassed." In addition to drawing outdoor enthusiasts, Sandpoint hosts an annual vintage car show, summer music festival, horse show and winter carnival, and its historic vaudeville theater features many noted entertainers. "The location of this development is tremendous and allows for all recreational activities with the comfort of a city within walking distance, all adjacent to a public airport," said Mileski, summing up SilverWing's allure.
Skypark At Sunriver Resort
Sunriver, Ore.
www.sunriver-resort.com
This 29-home residential airpark within Oregon's 4,000-acre Sunriver Resort (with some 4,500 residences of its own) combines the best of fly-in and resort living. Skypark lies adjacent to Sunriver Airport (S21), a private, public-use airport (runway, 5,455 feet), built to serve visitors.
Skypark residents have access to all the resort facilities and activities—golf courses, pools, spa and fitness center, marina, stable, observatory and grand lodge, along with shops and restaurants, and events such as concerts and festivals—all within biking or free shuttle distance.
Twelve of the Skypark residences are hangar homes, the others have views of the Deschutes River out back. "If the people on the river want a hangar, they can have a hangar at the hangar complex by the runway," said airport manager Stephanie Hartung.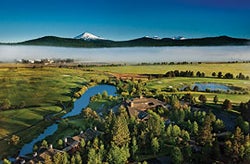 Skypark At Sunriver Resort
Owners are an even mix of full-time and part-time residents, operating aircraft from Piper Cubs to a Citation Mustang, with some homeowners commuting around the West in their airplanes. Mount Bachelor ski area is minutes away, and this time of year typically boasts excellent Spring skiing—a good excuse to see the community in person.
Sunriver also has hotel rooms and vacation condos, providing ample opportunity for prospective buyers to book a getaway and see the property. (Ask for the pilots' rate when making your reservations.) Most Skypark homesites have been bought, though homes come up for resale, the most recent listing priced at about $800,000.
Chris Christensen and wife Millie previously had vacation homes at Sunriver Resort, but moved to Skypark full time in 2005, drawn by the four-season climate and opportunity to enjoy fully their Bonanza and Super Cub on Tundra tires. "It's got everything most of us who want to stay active want—we like to fish, ski, bicycle and play tennis," said the retired executive. "We just want to continue to fly."
Page 4 of 5