Tuesday, January 24, 2012
Live With Your Airplane
An overview of residential airparks and fly-in communities
Selected Residential Airparks
Pecan Plantation


www.pecanplantation.com
This planned community of some 7,000 homes in central Texas has a fully developed fly-in community—the Airpark—with more than 100 homes and a 3,800-foot runway, and is now developing Landings Airpark, with 30 lots and a 3,100-foot runway.



Piney Creek Airpark


www.pineycreekairpark.com
This new development on Tennessee's Cumberland Plateau features heavily wooded oversized lots of up to 6+ acres accessible to the 3,000-foot paved runway, and 36 lots have already been sold, with five homes completed.



Rocky Mountain Airpark


www.rockymountainairpark.net
This 200-acre aviation and equestrian community at Everitt Airfield in Colorado, designed in the spirit of the Golden Age of Aviation, features two manicured turf runways and five- to 10-acre homesites, most with runway access and zoned for horses.



Sandy's Airpark At Sporty's


www.sandysairpark.com
Minutes from Cincinnati, this gated community was developed by Hal Shevers of Sporty's Pilot Shop, and the 12 homesites —with four homes built—have through-the-fence access to Claremont Airport, plus all the aviation events Sporty's hosts.
Spruce Creek
Port Orange, Fla.
www.7fl6.com
Spruce Creek on Florida's northeast coast is the largest and most fabled residential airpark, with more than 1,200 homes and 600 based aircraft on the 1,100-acre property. The gated community includes a country club with golf course and clubhouse, and has an adjacent equestrian facility, but aviation is the community's overriding passion. Residents include many current and former aviation professionals, along with plenty of "normal mom-and-pop pilots," said Lenny Ohlsson, resident for more than 20 years and owner with wife Pat of Spruce Creek Fly-In Realty.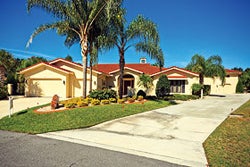 Spruce Creek
The weekly Saturday-morning fly-out breakfast gaggle routinely draws 50 or more airplanes, and residents provide aerial entertainment for numerous local events.
"It's like living at an air show," said Brian Norris, Sean Tucker's crew chief, who bought a "very reasonable" town-house condo with his wife Devan, an airline pilot, in 2009, fulfilling a lifelong dream he thought he'd never be able to afford. "Unless you have something against airplanes, golf, guns, motorcycles, nice cars or drinking, you'll be fine," Norris said of life at Spruce Creek.
Jack Hirn, who moved here full time in 2005 from a residential airpark near Chicago, noted, "If you are inclined toward building airplanes, it's a builders' mecca. Every tool you can possibly imagine is in somebody's hangar at Spruce Creek. I know half a dozen people that have full machine shops. It's just amazing."
About 40% of homes are on taxiways with hangars. Town-house condos range from $139,000 to $700,000 (latter with hangar). Lots from $125,000-$250,000 for nontaxiway; $250,000-$400,000 for taxiway lots. Homes $200,000-$750,000 without hangar; $450,000-$3.5M with hangar. Nearby schools, big-box stores, the city of Daytona and the Atlantic Ocean make this a practical primary residence.
Page 5 of 5