Thursday, March 1, 2007
Logbook Love Affair
Confessions of a type hunter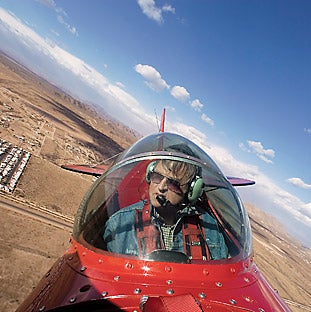 Over the years, I've been granted many fabulous hours of Marchetti time through the largess of various owners, and I've quickly found that an hour cavorting (or straight and level, for that matter) in an SF-260 can't be compared to any amount of spam-can time. A thousand hours of Cessna 172 time? A million hours? It doesn't compute. Absolutely nothing compares. Well, maybe a North American F-86.
As the nose comes up into a loop, for instance, the Marchetti is so solid and so unwilling to give up speed that it's as if the airplane is standing still and the world is rotating around you. The overwhelming visibility, the sure knowledge that you can pull vertical out of the bottom of a loop and disappear from sight, is delightfully chilling. Even the way the stick lays in your hand is aggressive and lets you know that it's ready to do anything you're willing to try. It's a kinship between man and machine that's hard to match. And here's a personal promise: Within 24 hours of my winning the lottery, there'll be an SF-260B sharing the hangar with my Pitts. And I always keep my promises.
Another of those lifetime images that repeatedly pops up in my mind's eye is of the I-can't-believe-I'm-doing-this variety. This image has me perched on a huge aluminum barn door, a pair of Allison V-12s sitting ahead of me on either side, each spinning a huge Curtiss electric prop: I was taxiing out for my type-rating ride in a P-38 Lightning.
How do you get a type rating in a single-place airplane, you may ask? It's easy: The examiner stands on the ground with a radio and says things like, "Okay, now show me a stall with the gear down. Okay, now zero thrust the left engine and make a pass." If you survive, I guess you pass. It was—and still seems—very surreal.
Page 3 of 4