Tuesday, January 25, 2011
Making History
Edwards AFB opens up their restricted airspace for a first-ever Lakebed Fly-in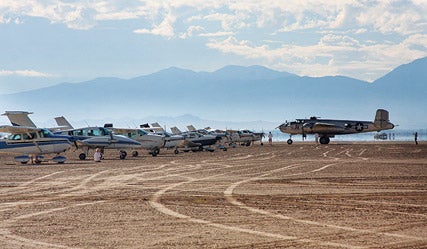 When the event first went public, the Air Force was swamped with nearly 2,500 applications, so a lottery was held. One hundred lucky pilots were invited to attend the civilian fly-in on Rosamond Dry Lake at Edwards Air Force Base. There were some restrictions on what could be flown in: no jets, ultralights, balloons or LSAs. But just about anything else was acceptable, and a wide range of aircraft, from warbirds to multi-engine pistons, singles and even a few aerobatic airplanes, made it safely to the parking area on the hard-packed mud.
Sixty miles northeast of Los Angeles, restricted airspaces R-2508 and R-2515 cover Rosamond Dry Lake, home of Edwards Air Force Base. Made famous by the likes of Bob Hoover, Scott Crossfield, Glen Edwards, Pancho Barnes and scores of other test pilots, the Mojave Desert airbase is where Chuck Yeager first broke the sound barrier in the Bell X-1, and where the North American X-15 touched the edge of space, setting speed records that still stand today. It's a place of military secrets, heroic saves, near-disasters and breakthrough technologies. And since the 1940s, when some of the most secret aerospace programs were developed, Edwards lakebed has been strictly off-limits to civilian pilots—until one day last October.
One hundred general aviation pilots were selected in a lottery to attend the Flight Test Nation Lakebed Fly-In on October 1, 2010, by being among the first private civilian aircraft to land on the lakebed. The morning sun was still below the horizon when we arrived at the designated holding area above Saddleback Peak, prior to our assigned arrival slot of 6:46 a.m. The air was smooth and clear, and we could spot airplanes orbiting everywhere—on the Avidyne moving map and out the window of a Cirrus SR22 that we had rented from Justice Aviation at Santa Monica airport.
"November One Six Six Three Charlie. Fly heading 270. Vectors to the field. Maintain VFR. Altitude your discretion," was Joshua Approach loud and clear through our headsets. It was the radio call we had been waiting for. We turned toward the south end of Rosamond Dry Lake and began a descent to pattern altitude of 3,300 feet. The 21-square-mile dry lakebed in the distance was hard to miss, and as we got closer we were able to discern runway 20, painted on the uniform tan surface. Air Force controllers standing in the back of a flatbed truck dubbed "Muroc tower" cleared us to land, and our wheels sank to greet the cracked desert.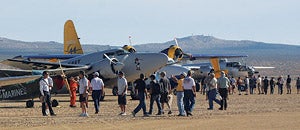 Participants came from all over the country. One group had spent three days flying VFR from Colorado in a Cherokee, battling marginal weather the whole way. Another pilot flew his plane all the way to California from Connecticut. Throughout the event, the Air Force entertained everyone with a pancake breakfast, a display of historic aircraft—from a P-38 Lightning to a Ryan PT-22—and a sonic boom courtesy of an F-22 Raptor. Numerous briefings outlined the test flight mission, airspace safety, base history and collision avoidance. Major General David Eichhorn talked in some detail about the mission of the base and how flight testing makes the restricted airspace around Edwards extremely dangerous for any navigationally challenged GA pilot who might wander through.

It's a place of military secrets, heroic saves, near-disasters, and breakthrough technologies. since the 1940s, when some of the most secret aerospace
programs were first developed, Edwards Lakebed has been off-limits to civilian pilots—until one day last October.

Page 1 of 4