Tuesday, June 22, 2010
Mustang Mystique
With a new musical score by James Horner, the Horsemen P-51 team rides anew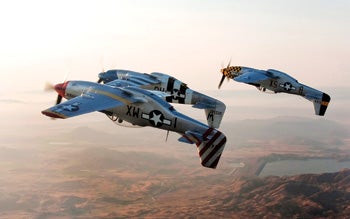 Anatomy Of A Horseman
The intense concentration required to fly formation aerobatics in a $3 million airplane just a few feet off the ground is obvious. This day, Ed Shipley, Dan Friedkin and Jim Beasley are ensconced in the back of their support bus near the flight line, reviewing video footage of their prior flight. "Our goal is to fly a perfect flight," says Friedkin, "but we know it can never be absolutely perfect."
The team chooses from several Mustangs owned primarily by the Friedkin family and by the team members themselves. Beasley flies lead in the very rare P-51C, with Shipley and Friedkin on each wing in the more familiar D model. Tom Friedkin, Dan's father, is a well-known warbird owner and pilot, and flew the Corsair sequences in the popular late-'70s television series Baa Baa Black Sheep, among others.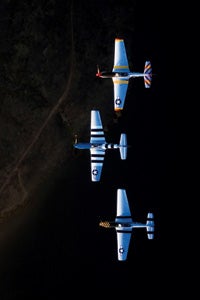 Though each P-51 is slightly different, Dan Friedkin tells me they're stock airplanes. Their famous, supercharged Rolls-Royce Merlin engine gives each Mustang about 1,500 hp. One aspect the team constantly deals with is the airplane's iconic status. "The Mustang is the ultimate skeleton key," smiles Shipley. "It opens every door. The P-51 is one degree of separation from everything."
Flying a Horsemen show is grueling. "Ultimately, you have to remember that these airplanes were built for 19-year-olds," says Shipley. "So at my age, the flying wipes me out." During a routine, cockpit temperatures rise well above 100 degrees, and the stick forces are about 20 pounds per G. "The sensory input is intense," he adds. "You've got the ground right there and all this stuff happening peripherally. By the time it's done, we're wiped." Our photo flight is to be their fourth flight of a very long day.
The demands of formation flying change the way certain maneuvers are flown. "Our whole formation routine is based so much on feel," explains Friedkin. "We rely on what we call 'gateways,' that are predetermined speeds or altitudes, before we can start a maneuver and are based on constantly changing physiological and environmental factors." The team keeps the G forces as low as possible, but they can spike to +5 G's or more during the routine. Their goal is to showcase the beauty of the airplane within the context of "elegant energy management," as Friedkin describes.
As lead, Beasley has a large responsibility: "My wingmen are totally dependent on and trusting of me, and I have to ensure their safety. I've got to be at the right place, at the right time, at the right heading, at the right speed throughout the entire show."
Safety comes first. The team is constantly practicing and evaluating, and each member is a seasoned Mustang pilot with thousands of hours of experience. Shipley simply says, "We practice non-stop. This is not easy flying."
Page 2 of 3
Labels:
Features
,
Flight Training
,
Flying Skills
,
People and Places
,
Pilot Skills
,
Shows and Fly-Ins
,
Warbirds
,
Aerobatics
,
Air Shows
,
Aviation Personalities
,
Adventure Flying