Tuesday, September 22, 2009
P-51 At Twenty One
Celebrating one family's passion for warbird
P-51 Solo at 21 Years Old! Video By: Scott Slocum
As the fighter taxis by, the sound of 12 hot-water Merlins crescendos, crackles and pops as the early-morning sunlight glistens off the silver paint highlighting the name
Glamorous Glen III
—the markings of Chuck Yeager's Mustang from the 357th Fighter Group. Pulling onto the ramp with right brake and one last burst of power, the yellow and orange checkerboard nose spins back toward me as if to say, "I'm ready to go again!" Idle cutoff and the sound of applause replace the engine growl as the huge four-blade prop comes to a whirling stop. I move around to the left side to see Conrad Huffstutler exit the Mustang's cockpit with two easy hops to the ground. He's wearing a smile even bigger than that of his father, who climbs out from behind the pilot's seat.
At 21, Conrad has joined the ranks of the few who can call themselves Mustang pilots. He has just completed three takeoffs and landings under the watchful eye of his father/instructor Mark Huffstutler, a 13,000-plus-hour pilot and warbird enthusiast from Uvalde, Texas. "He looks so young," I think to myself as Conrad, dressed in a vintage uniform (with tennis shoes), is congratulated by friends and family. Yet by the time Yeager was Conrad's age, he already had flown several combat missions, been shot down and wounded, and become an ace by shooting down five planes in one day—unbelievable!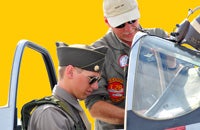 A story like this begins with a love of aviation. For the Huffstutler family, this started with Conrad's grandfather taking his son, Mark, to the airport for rides. The flying bug stuck, so Mark scrimped and saved, taking flight lessons in the early morning before school started. Knowing he wanted to make a living in aviation, Mark went to junior college in Uvalde to get all of his ratings. He was hired to fly a Howard 500 radial twin-engine taildragger for the former governor of Texas, Dolph Briscoe. Mark later purchased a local FBO, and after 30-plus years of growing the company, he now owns one of the most successful business jet and modification shops in the country, Sierra Industries. He has grown the company's product line from five products to more than 300 performance and safety modification items, all approved by the FAA.
Page 1 of 2