Tuesday, March 25, 2014
Planning A Long Cross-Country
As the old chestnut proclaims: prior planning prevents poor performance
Flight Planning And Weather Applications
ForeFlight
www.foreflight.com
ForeFlight, the popular iPad do-everything flight-planning product,does pretty much everything you want for planning flights—routing, weather, airport information, etc.—and it does it on an iPad. With a data plan, you can do your planning anywhere.

Jeppesen
ww1.jeppesen.com/aviation/products/mobile-tc/index.jsp
Jeppesen offers a wide range of flight- planning, charting and weather-related products.

AOPA Flight Planning
www.aopa.org/Flight-Planning.aspx
AOPA's web-based product provides both weather/briefings and route planning. In addition, it provides a wide spectrum of airport information, including satellite pictures, local weather and more.

DUATS
www.duats.com, www.duat.com
While useful, automated weather sometimes misses the mark, nothing can beat a discussion with a briefer through either DUATS or DUAT. Sometimes, a briefer's personal knowledge provides insight you can't get any other way.

National Oceanic And Atmospheric Administration (NOAA)
www.noaa.gov
Getting a good weather briefing also benefits from personal investigation. The NOAA website contains an amazing selection of weather products. They seem to constantly be adding or upgrading their products.

National Center for Atmospheric Research (NCAR)
weather.rap.ucar.edu
A lot can be said for seeing what the weather radar shows, and the NCAR site has a variety of real-time weather products.

Skew T-Chart
rucsoundings.noaa.gov/gifs/
If you're interested in weather patterns at a specific airport, the Skew-T chart provides ceiling, tops, layers and freezing level information that can be very useful.

Wind Map
hint.fm/wind/index.html
Finally, for a very broad-picture view of the prevailing winds, this will give you just that. It's an interpretation from the National Digital Forecast Database, but the easiest way to sum it up is that a picture is worth a thousand words when you're planning a longer flight.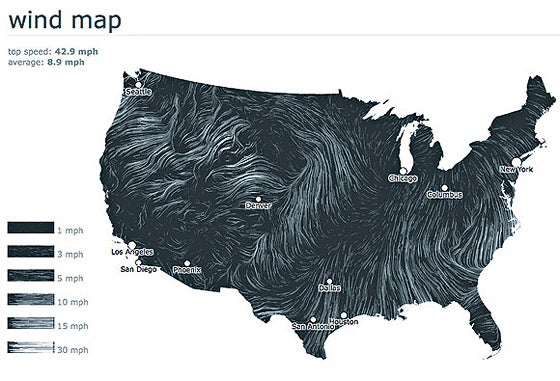 Page 5 of 5