Tuesday, November 1, 2005
Racing Bobby Unser
"I will go fast until the day I die."—Bobby Unser, three-time Indianapolis 500 champion
By this time, Unser was beginning to enjoy flying. He used his Bonanza to get to at least 60 races a year and to a growing number of endorsement gigs. He estimates that his annual flying totals were around 600 hours. He installed a primitive autopilot with a heading bug, bought himself one of the first compact, portable TV sets and set it on the dash so he could watch TV as the countryside rolled by below him. He became so comfortable that he started taking naps while flying alone. He would run a fuel tank dry, reach down without opening his eyes and switch over to a full tank! Obviously, he's not only incredibly talented, but amazingly lucky.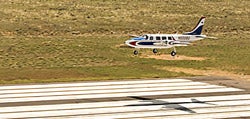 Unser stepped up to a twin-engine Travel Air, which meant that it was time to get his IFR ticket. He had the instruments now, and he could no longer afford to jeopardize his racing commitments because of bad weather. The problem was that he didn't have the time for a conventional IFR course. He learned about a school in Chicago that would work with him in his aircraft and might just get him through the program in two weeks!
The only time of the year he could take two weeks away from auto racing was Christmas. He contacted the school, telling them he had two weeks, but that he wanted to be home for Christmas. They replied that if he could go 24 hours a day, they would always have an instructor ready to work with him. Unser signed on, wondering how he would do, considering he had never finished high school. "Unser Determination" kicked in. He studied and flew IFR from 7 a.m. to 10 p.m., collapsed for a few hours of sleep and started over.
"The guys were nice to me. They knew what my situation was and they worked my butt off!" remembers Unser.
At the same time, his career was prompting him to move on. He was covering so much ground that he had to cover it faster to keep up with his crowded schedule. He looked seriously at a B-25 and a P-38, both very reasonably priced in those days. The P-38 might require him to jump out with a parachute, so Unser's fear of heights eliminated that option.
Finally, a friend of his suggested the next best thing to a warbird: an Aerostar. It had the speed and the range he needed. His friend made arrangements for Unser to fly to Milwaukee, Wis., to inspect the aircraft. Once there, Unser found the line boy with the key and stepped into the aircraft. He liked what he saw and called his friend in Illinois. "Fly it down here, and we'll do a prepurchase inspection," said the friend.
"Do you suppose that's okay with the owner," asked Unser.
"Yes," replied his friend. Unser found the master switch and learned that the batteries were dead. He asked the line boy if he knew how to jump-start an Aerostar, and the boy said yes, but didn't know where the batteries were located. The
Pilot's Operating Handbook
came out and Unser was soon taxiing toward the active runway in an airplane he had never flown before. He took off and made his first landing in Illinois on what seemed like a ridiculously short strip.
Page 3 of 4