Tuesday, September 7, 2010
Rookies of Reno
So you want to race around the pylons? Here's a look at what it takes.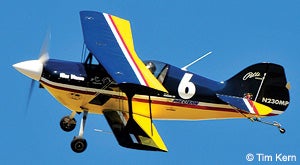 Rob Caster flies the Miss Dianne Pitts
Competitive Addiction
Rob Caster arrived at Stead in the left seat of a Lear 45. He's a FlexJet pilot who was bitten by the race bug in 2007. At Rookie School he was flying
Miss Dianne
, a Pitts owned by Jeff Lo. "My previous tailwheel time was in a Pilatus Porter, plus basic work in a Decathlon and a little time in a DC-3. They're not much like a Pitts," he smiles. "I learned pretty fast that aerobatics and competition are addictive."
Caster came to Reno expecting to learn how to run the course and was amazed at the level of help that's available. Daily pilot briefings generally are segregated by class and alternate with flying.
"It's really thorough," says one race pilot from England. "You have to pay attention all the time, and there's a lot of information."
The briefings cover race rules, including the reasons behind many of them. Safety is the main reason, money runs a distant second, tied with logistics, scheduling and perhaps tradition. "It's fun to talk to the more experienced guys who are here because they love it," he adds. "The approach stresses safety. They keep reminding us, 'Maydays are free.'"
All week the mood is one of helpfulness and mutual support, from lending tools (and even crew) to just lending an ear. I caught up with Caster again at the end-of-school volunteer banquet. "What I didn't expect was how much fun it is." The jump pilot and former flying law enforcement officer reflects, "Also, it takes some getting used to, flying so fast and close to the ground."
As if to prove Caster's thesis that competition is addictive, 13-time Formula One champion Ray Cote was the oldest "rookie" in the school at age 85. (When you haven't flown in competition in Reno for three years or if you're changing classes, you attend the school—no exceptions!) Cote comments that the most common flying mistake rookies make is climbing in the turns. The bank angles are fairly steep; as a pilot's braced arm moves the stick to the left, its motion tends to also pull. That, plus the fact that the ground is so very close, tends to make the pilot want to get a little altitude.
"We also look for erratic flying," Cote continues. "That's no good. Don't fight the airplane. And keep the ball centered."
Intense Sight Picture
Three female rookies attended PRS this year, a new record. Heather Penney, daughter of four-time Unlimited champion and two-time Jet champion John Penney, was flying an L-29 Delfin. It's not her usual mount: She has done two tours in Iraq in F-16s. Melissa Pemberton, who performs air shows in an Edge 540, also attended but was thwarted by a schedule conflict and couldn't complete the weeklong school.
Page 2 of 3