Tuesday, February 26, 2013
Swap-A-Plane!
If flying yourself in an exotic, far-off land seems unaffordable, perhaps an airplane exchange could make that dream happen.
The security clearances come in two flavors—ASICs and AVIDs. I chose the AVID as it was valid for five years instead of two and I felt I didn't need "frequent access to security-controlled airports," thinking that meant I could only wander unattended through the Sydney airport control tower once a year or so.
Well, not exactly. I subsequently learned that the list of security-controlled airports includes not only Sydney but Birdsville—a town that's an actual Australian metaphor for the middle of nowhere. So, it looked like my AVID would only authorize me to fly from East Woop Woop to a flatish spot on the Canning Stock Route and little else.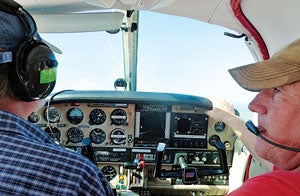 The writer (left) getting checked out by owner Don Blanch (right) in VH-DWG. She flew great despite the rich collection of INOP stickers.
The paperwork for getting actual pilot privileges was less onerous than the security clearance but complicated by the assortment of ways to go about it. The straight conversion of an overseas license required both written and flight tests. The Certificate of Validation, which authorizes pilot privileges for up to three months, would be more appropriate if I were planning only a single flying tour of Australia instead of developing ongoing relationships with multiple pilot-owners there. So, I opted for the $140 Special Pilot License which, although restricted to day visual flight rules (VFR), remains valid indefinitely.
I was about to submit my multifarious applications when I noticed the Language Proficiency subheading on the CASA website. I was pretty confident that this wouldn't be an issue, not because I'm fluent in spoken English, mind you, but because my FAA certificate actually says "English Language Proficient" on it.
Well, that doesn't count, as CASA has adopted the International Civil Aviation Organization's (ICAO) six levels of English language proficiency (ELP), where only the top three levels are acceptable for flight crew.
Unlike the FAA (which was starting to seem like a finely tuned, stakeholder-friendly organization), there's nowhere in Australia where you can walk in off the street and interact with a CASA officer. CASA recommended on the phone that I find an Approved Testing Officer at my local airport to administer the ELP exam, and so I found my way to Gary Smyth at Melbourne's Moorabbin Airport and completed the application process.
Back in Los Angeles three weeks later, it was with considerable anticipation that I opened a letter from CASA, which read in part: "Your application is being returned to you because it is incomplete and CASA is unable to process it. The application is now considered closed." It explained that my failure to provide evidence of ELP and certified copies of my aviation medical and foreign license was at the root of their decision. Many phone calls later, it was resolved—they had misplaced my documentation.
Our plans for the wine tour of Barossa Valley were further complicated by CASA's refusal to send my license and AVID directly to Los Angeles. Instead, I needed to first enter Australian immigration to trigger their issuance, followed by mail delivery to a local address. With that resolved, we headed up country to overnight with Wayne and Faye. The next morning they drove us to the local aerodrome, reacquainted us with VH-MWH, and, after a couple of circuits, handed us the keys and we were off.
Page 3 of 5