Monday, May 1, 2006
The Aviation Storyteller
Preserving tales from the Golden Age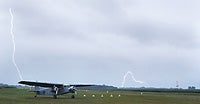 A fast-moving storm stranded the Bushmaster 2000, which had to be flown on the ground to battle ferocious winds.
After three trips, the Sikorsky was located, but two attempts to pull it from the lake failed. Not surprising considering that the aircraft sits below 213 feet of water and is partially buried in glacial silt, which Greg likens to "a combination of Elmer's Glue and peanut butter." Other complications included the remote location—there are neither roads nor electricity—and the Lake Clark National Preserve, which must approve any work in the area. Even the government has given up on dislodging one of its planes, which is similarly buried (albeit, just 30-feet deep) in the Seattle Harbor. Still, Greg perseveres. Recognizing that the money poured into the project is "insanity," he jokes, "we will get this thing out of here if we have to drain the lake!"
In another blind purchase, Greg acquired a 1928 Stinson Detroiter, the world's first diesel-powered aircraft. He placed his order over the phone immediately after seeing an ad from the Henry Ford Museum. Although they advised him to see it first, Greg saw no need to delay: "I knew I wanted it." His first glimpse of the historic aircraft wasn't until it was delivered to his door, and as it turns out, the aircraft was "an artifact frozen in time." Its original patina remained and blades of grass were stuck in the tires from landing at the Henry Ford Airport. To protect this authentic feel, plans to restore the Stinson are on hold, perhaps indefinitely.
When restoring vintage aircraft, Greg must always balance authenticity against practicality. Although hardcore historians insist that restorations must be one hundred percent accurate, sometimes exactness limits what a plane can do. For aircraft that Greg plans to frequently fly to air shows, he wants a design that will last. In the Golden Age, mechanics would weave cables together and then solder them, but "there's a reason they don't do that anymore" and Greg prefers to use today's crimping system. He may also choose to include a radio or electric system in an aircraft; this integration of modern technology enables him to share the plane with more people.
A further challenge is locating rare parts. If they can't be found, they need to be made. But while manufacturing old parts can prove difficult, "it's not voodoo." Because Golden Age aircraft are made primarily of tube and fabric, they aren't as complex as WWII planes and are therefore easier to maintain. Perhaps the bigger challenge is recreating old technologies that no longer exist. To form the leading edge of the Ford Tri-Motor's wings, Greg needed to bend corrugated metal against the direction of the corrugation, while gradually tapering the material toward the wingtip—not an easy task.
Greg's involvement with aviation spans beyond vintage aircraft. He serves on the board of directors of the Lindbergh Foundation (
www.lindberghfoundation.org
), which focuses on projects that combine nature and technology to improve living standards, and he's on the Steering Committee for the Young Eagles. His company, Historic Aviation (
www.historicaviation.com
), sells everything from aviation models to calendars.
What's left for someone who has so many cool airplanes from the Golden Age? Topping Greg's wish list is a Curtiss Condor. So far he has located three of these large (90-foot wingspan) biplanes. The U.S. Navy owns one and another is crashed in a jungle in El Salvador. The third (consisting of random parts remaining from a crash) is in a storage facility in Illinois. But none of this deters Greg: "The testosterone and loud noises of warbirds are fine to a point, but the world needs one Curtiss Condor much more than it needs another P-51."
Page 3 of 3