Monday, May 1, 2006
The Aviation Storyteller
Preserving tales from the Golden Age

For Greg Herrick, collecting airplanes seems to be more of an addiction, less of a hobby. His eclectic assortment of more than 40 aircraft spans eight decades, with a focus on the period between World War I and World War II known as the Golden Age." />
To an outsider, Greg might seem like an impulsive aircraft shopper. However, he's quite particular when scouting for his next addition. And once he finds what he wants, he doesn't give up. This requires patience, perseverance and, most often, persuasiveness. Convincing owners to part with their planes is "like trying to buy their children." They must be assured that it's going to a good home. For many old- timers, vintage airplanes represent who they are, and separation is anything but an easy process. Trust must be earned and relationships must be developed. It took three years of stopping for coffee with vintage-aircraft owner Gene Frank in Idaho before Greg was allowed to even view Gene's Ford Tri-Motor.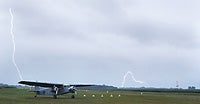 A fast-moving storm stranded the Bushmaster 2000, which had to be flown on the ground to battle ferocious winds.
In so far as Greg knows what he wants, he's not shy about buying planes sight unseen. Thus it was no deterrent that one object of his desire, a Sikorsky S-39, was in "cold storage" at the bottom of a remote lake in Alaska when he purchased it. Not only could Greg not view the aircraft, but the seller had never seen it either. In fact no one had seen it since one fateful afternoon in 1958 when the landing gear failed to fully retract and the plane flipped as it touched the water. To find the lost plane, Greg located the pilot, Vic Lenhart, by dialing everyone listed under that name. It took a lot of convincing to get Vic ("Sonny, what part of 'no' don't you understand?") to return to the accident site.
After three trips, the Sikorsky was located, but two attempts to pull it from the lake failed. Not surprising considering that the aircraft sits below 213 feet of water and is partially buried in glacial silt, which Greg likens to "a combination of Elmer's Glue and peanut butter." Other complications included the remote location—there are neither roads nor electricity—and the Lake Clark National Preserve, which must approve any work in the area. Even the government has given up on dislodging one of its planes, which is similarly buried (albeit, just 30-feet deep) in the Seattle Harbor. Still, Greg perseveres. Recognizing that the money poured into the project is "insanity," he jokes, "we will get this thing out of here if we have to drain the lake!"
In another blind purchase, Greg acquired a 1928 Stinson Detroiter, the world's first diesel-powered aircraft. He placed his order over the phone immediately after seeing an ad from the Henry Ford Museum. Although they advised him to see it first, Greg saw no need to delay: "I knew I wanted it." His first glimpse of the historic aircraft wasn't until it was delivered to his door, and as it turns out, the aircraft was "an artifact frozen in time." Its original patina remained and blades of grass were stuck in the tires from landing at the Henry Ford Airport. To protect this authentic feel, plans to restore the Stinson are on hold, perhaps indefinitely.
Page 3 of 4