Thursday, July 1, 2004
The Bears Of Kamchatka
A pilot in the wilderness re-learns the lesson that the most dangerous animal on earth is man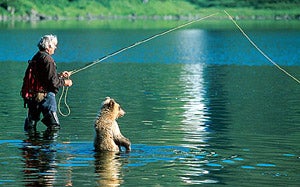 And like all children, the cubs needed to learn discipline. They were taught the word "no," and from the beginning, there was no grabbing allowed.
On a clear day, Russell often would count more than 100 bears during a single flight. He watched females lead as many as four cubs down trails worn exclusively by brown-bear paws. He watched bears play in the ocean waves and saw them splash in a sea of salmon. But to his and Enns' great disappointment, nearly every bear they tried to approach in the Kamchatka wilderness ran away from them. Years of poaching in the area had taught the bruins that contact with human beings could be lethal. Or were Russell and Enns just plain wrong in believing that bears and people were not natural enemies? They left Russia at the end of their first year, faced with the real prospect that their project was meaningless. Until Rebenko brought them some exciting news.
Three orphaned female brown-bear cubs had ended up in a zoo outside of Petropavlovsk. Although the official Russian position did not favor releasing the bears to Russell and Enns, the zookeeper's position did. He helped load the three 15-pound bears into a box for transport, and with a fair amount of squalling from the cubs, the zoo's first cub-napping was in progress.
Raising the cubs, named Chico, Biscuit and Rosie, in the wilderness was, in many ways, no different from bringing up human kids. They wanted to eat and they wanted to play. Russell and Enns would take them on walks along Kambalnoye Lake, and the cubs' noses would lead them everywhere. The cubs developed a sweet tooth for the flowers that began to bloom on the tundra, and the cream-colored rhododendrons near the cabin didn't stand a chance. Eventually, Russell and Enns taught them to fish by placing a salmon carcass under several inches of water. The bears then figured out how to stick their heads into the river and retrieve a delicious snack. Later, Russell would herd live fish into the shallows, and Chico, Biscuit and Rosie learned to pounce on them.
The cubs had dug a small den under the cabin and were hiding there when the storm that flipped Charlie's airplane blew in. Three days later, when the winds finally calmed down, they watched as Russell and Enns looked over the damage. Some spare aluminum tubing was used to repair the stabilizers, the rudder from a kayak reinforced a damaged spar, and a small skillet was heated to heat-shrink some extra Dacron cloth over the holes in the Kolb's fabric. Repair of the aircraft was critical—it was a 25-mile hike to the nearest human beings—but not so important as to interrupt the rearing of the cubs.
And like all children, the cubs needed to learn discipline. They were taught the word "no," and from the beginning, there was no grabbing allowed. It would be no time before the bears' natural strength could overpower their human parents. Although Russell would sometimes arm wrestle and play with the cubs, they were forbidden to repeat the same shenanigans with Enns. But Chico loved to joke around, so she would bring her teeth within inches of the tempting rolled-down flaps of Maureen's waders, then back off again at the sound of her "no."
Page 3 of 5