Tuesday, April 21, 2009
The Country Pilot
Joining the farm team for tailwheel training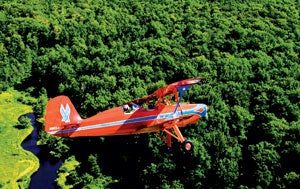 Walter Buergel flies his Stolp SA300 Starduster Too on approach to a grass strip at Bloecher Farm Airport.
Buergel, a native of Germany, emigrated to the United States with his family as a teen in the mid-1950s, settling on Long Island where his father worked at Grumman, building airplanes. Already infatuated with aviation, following high school, he joined the army, learning helicopter maintenance and earning his pilot's license at the base flying club. After discharge, Buergel moved to the Buffalo area with wife Sandy and enrolled at the University of Buffalo on the G.I. Bill. Not that long after, they found their dream home.
"He always wanted an airstrip in the backyard," says Sandy, "and I always wanted to live on the top of the hill."
Yet those early Buffalo years also revealed a Buergel starkly at odds with the affable, "just plane folks" image that the Country Pilot projects today: The ostensibly simple flying farmer graduated from college with a Ph.D. in chemistry. "It wasn't my cup of tea," he says. "I went back to aviation."
On a glorious summer afternoon, a visit to Bloecher Farm Airport (named for the previous property owner) is a cross between a laid-back lawn party and a trip to the golden age of aviation. Friends drop in to talk airplanes. Sandy brings out homemade cookies and lemonade. Buergel's fleet of aircraft is arrayed on the grass and inside a pair of hangars: the Piper J-3 Cub, Piper PA20 Pacer, Aeronca 7AC Champ, Aeronca 15AC Sedan, Stolp SA300 Starduster Too and Pitts S-2B. Taildraggers one and all, and there's a story behind each.
"This was a basket case—literally: bushel baskets and boxes of parts," Buergel says, standing beside the Pacer in one of the hangars. "It had kind of a bad history: It crashed the first year of its life, and by the time it was four or five years old, a hangar collapsed on it. I'm the sucker who finally took it home."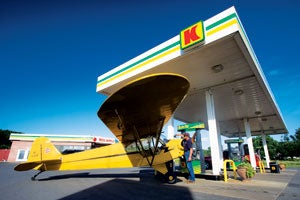 Buergel was probably the only person within a tank of avgas who could put it back together. Besides his knowledge and experience, in one of the large outbuildings, he also has the most impressive machine and tool shop this side of a major manufacturing plant. Today, the completely rebuilt Pacer is Buergel's traveling airplane.
"Whenever I go somewhere, that's what I take," Buergel says. "We visit our son down in Lockhaven [Pa.]; I take it to Oshkosh. It's roomy enough—I'm six feet tall, and I fit in it pretty well. It's got the original 125 horsepower engine, and it cruises right along at about 100 knots. I make that trip to Sun 'n Fun in one day, but I've got to do a bunch of stops."
His 1942 J-3 is reserved for local pleasure flights. "I use it for my evening cruise," Buergel says. "I love to fly it with the door open on a summer evening."
Page 2 of 4