Tuesday, April 21, 2009
The Country Pilot
Joining the farm team for tailwheel training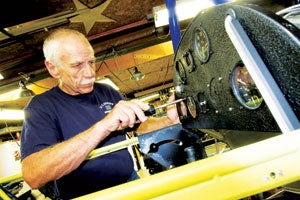 The Aeronca 15AC Sedan is chocked behind the Cub. "It's a very nice flying airplane, and it has a tremendously large wing," he says of the Sedan. "It's amazing what it will do with just a 145 horsepower Continental. I can put four people in and get right out of here, with not a worry in the world.
"But I don't fly it that much. It's set up as a glider tug," adds Buergel, who loves to fly a Schweitzer 1-26 sailplane he rebuilt, "but I don't have a tow pilot. It's a vicious circle." The Country Pilot sounds momentarily wistful: "The Aeronca is one of those airplanes that migrates to the back of the hangar."
Buergel has certainly seen his share of airplanes come in and out of favor. When he first moved to the area, he specialized in servicing the Grumman Ag Cats used in agricultural operations around the region. But as more people moved to once-rural areas, aerial sprayers began to disappear, and in '87, he went to work for U.S. Airways, maintaining BAC 1-11s, DC-9s, MD-80s and B-737s. Since retiring in 2002, he spends time on his motorcycles, his airplane projects and his flight instruction.
The 1946 Aeronca 7AC Champ is the workhorse of his trainers. It sports the semi-faded red with blue accents that are practically the livery colors of his fleet. "This is the one that does all the flight instructing; it's better than a Cub for teaching," Buergel says. "It's roomy, for one thing, and it needs rudder. It's built so it has a lot of adverse yaw—I'm sure it was done intentionally—and if you don't fly with rudder, it's a disaster. It exaggerates the need for rudder. So if you fly this, you can fly anything."
A former Sportsman-level aerobatics competitor, Buergel uses his 1993 Pitts S-2B for both work and play, though he admits he's not one for performing radical routines. "I'm just a country pilot—I don't do any of the fancy stuff. I can do slow rolls and snap rolls and verticals and loops—basically Intermediate-level maneuvers. The airplane is so much more capable than I am."
Buergel has an aerobatic box right over his property. When he wants to practice, he calls to activate the airspace and flies while Sandy—who, like Buergel, has gone through IAC (International Aerobatic Club) Judges School—keeps a discerning eye on his maneuvering.
"I sit on the lawn chair with binoculars and critique him," Sandy says. "I get on the radio and say, 'Hey, you pinched the top of that loop. Try it again!'"
No doubt, aerobatics and tailwheels are great for getting pilots of all experience levels back to the basics of stick and rudder flying. But to transport one all the way back to the golden era, you need an open-cockpit airplane—like Buergel's Stolp SA300 Starduster Too, N66SJ.

Buergel...is something of a legend in western New York's aviation community. Few people around these parts know as much about how to fix, build or fly an airplane.

Created in the late 1960s by legendary homebuilt-aircraft designer Lou Stolp, of Riverside, Calif., the Starduster Too was the first two-place, plans-built biplane. But it wasn't just the novelty that attracted attention: The one-place Starduster was regarded as among the prettiest biplanes ever designed, and the Too carried on the aesthetic tradition. Hundreds were built. In fact, Buergel started one himself that remains unfinished to this day. The one on the field was a gift from a friend who ground-looped it, damaging the undercarriage and fuselage. Of course, Buergel restored it to airworthy condition.
Page 3 of 4