Thursday, May 29, 2008
The Flying Siegfrieds
Let's fire up the flivver, kids: it's family flying time! And, yes, you will solo at 14.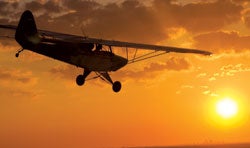 Once & Future Cub
The mystique of the J-3 has endured since its introduction 70 years ago, then powered by a not-so-mighty 40 hp engine. That lovely joybird sold for around $1,000. Today, you can buy a Legend Cub for about 100 times that price—or save some money and build your own, as Rand and daughter Micky did.
"We loved the open-up doors—that outdoor flying feel that hang gliders and ultralights have," says Hart.
"The Cub was forgiving and straightforward—a very honest airplane that does exactly what you want it to do."
Though much idolized, the original J-3 had well-known shortcomings, such as rear-seat-only solo, minimal room in the front seat, and that 12-gallon gas tank sitting right over the front-seater's knees. So Hart and Elliott asked Cub people what they could do to make it a better airplane.
"We ended up adding doors on both sides for floatplane applications, putting in wing tanks, removing the nose tank and including safety mods from over the years. We also made a higher seat position and a roomier—three inches wider—cabin with better visibility."
The result was a flivver with J-3 appeal—and Super Cub chops.
Rand
For Rand Siegfried and his four brothers and sisters, what was good for "Old Bob" the eagle was good for the eaglets...and grandeaglets. Like all his siblings, he soloed in gliders at age 14 and got his private ticket at 16.
In perfect genetic echelon, his daughter, Micky, soloed a glider at 14, then a Piper Pacer on her 16th birthday. Micky had asked for a pair of Ray-Ban Aviators for her birthday. Earlier, dad and mother Andrea had formed up to fly a more ambitious course. "Andy and I were looking around at Sun 'n Fun '07 for a Cub kit to build with our 12-year-old son Cormac," says Rand. "We figured maybe we could get it done by his 16th birthday."
Rand thought of the Cub as "the ideal little light airplane. I love the way it flies. It takes some skill to fly well, yet is very forgiving when you don't; it will still support you. I wasn't looking for fast or far, but for fun: low and slow—opening the door in flight and looking around." Don't overlook the nostalgia factor. "I first soloed in a Cub myself."
After visiting all the kit manufacturers at Sun 'n Fun, they settled on Texas Sport's factory build program. "And Andy had the idea," says Rand, "that we could do this with McKinley!"
Rand agreed. He saw Legend's factory build idea as "a way to guarantee completion. Teenagers today have 10,000 things pulling at them. The key to success is to take them out of their home element."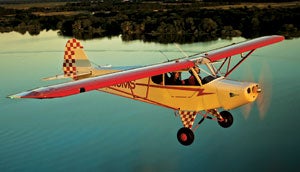 The Princess Pilot
The kit order was placed with Legend, then the surprise was sprung. After soloing in the Pacer on her 16th birthday, Micky opened her presents, including the Ray-Bans and a brochure created by her dad about the Legend Cub—her Cub.
"It took awhile for it to sink in," Rand recalls. "'Oh my God,' she said, 'You guys bought me an airplane?' Then she said, 'I feel like the movie
The Princess Diaries
. All I asked for was Aviators—and I got an airplane!'"
A short week later, dad and daughter winged east to Texas from their Palo Alto, Calif., home. Several trips and "five or six weeks later"—about 300 hours total—and construction on N416MS was done.
Page 2 of 4