Thursday, May 29, 2008
The Flying Siegfrieds
Let's fire up the flivver, kids: it's family flying time! And, yes, you will solo at 14.
Parents are often intimidated by the haughty teenager vibe. Teaching a teen to drive can rank right up there with root canals. So what kind of parent builds an airplane side by side with his daughter and teaches her to fly? Have we discovered a new form of masochism?
Rand chuckles: "Some of the guys at the factory were initially leery of being caught in the middle of father-daughter rants. We never did any of that." He adds with quiet pride, "We've always been close. I wasn't at all worried. We got in a groove, and she kept a positive attitude all the way through."
Along the way, there were life-experience bonuses: "She learned that working 40 to 50 hours each week is difficult. She would come back to the room, crash on the bed and ask, 'How do people do this all the time?'"
"I told her, 'If you don't want to work that hard, do well in school!'"
In the end, according to her dad, Micky still felt mild astonishment "that we could take a pile of parts, make it into an airplane and fly it." But fly it she did.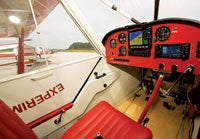 Micky
The light ebbs to gold as Micky climbs out from X49's grass carpet to bank onto the crosswind leg. Standing with other friends from the Legend Cub family, papa watches intently, sifting through the inevitable tide of a father's emotions: "Apprehension was furthest down on the list. I'd taught her well, I knew she'd do fine. Mostly I felt this amazing 'proud factor.' And I felt an overwhelming joy knowing how happy she would be, flying in the airplane she built with her own hands. That's a once-in-a-lifetime experience. Gotta be a pretty neat feeling."
Fulfilling papa's confidence, McKinley nails four perfect landings in a row, then taxis over to the gaggle of Cubs for a round of well-deserved kudos.
"It was great, it was awesome!" she says, sipping on a lemonade a few minutes later. "I really wasn't nervous at all. I had already soloed in the Pacer, and my dad had flown off the 40 hours for the experimental requirements of the Cub, so I was confident it wouldn't fall out of the sky. It was really fun! Not like the Pacer—that's a drama queen."
Pat Bowers, who assisted the project at the factory, yells out, "Did you solo?"
"Yeah!"
"Good girl!"
She jokes easily with the pilots, many of them a generation or two her senior. There's no ageism among the pilots. They ask how many go-arounds she made with dad before soloing. "Two today, two yesterday," she answers. Approving nods and smiles all around.
"I don't like flying with her," Rand jokes. "Her landings tend to be better than mine. I had to make her go solo."
Bob Elliott, another Legend Cub owner, asks Micky, "Did you like the improvement in performance after you got that lard butt out of the rear seat?"
She laughs. "It's nicer to fly but harder to land. I kept flaring at the wrong time and it floated a bit."
"Prettiest thing I ever saw," Rand concludes with a smile that says it all.
Page 3 of 4