Wednesday, May 25, 2011
The Journey Or The Destination?
A cross-country adventure to Central America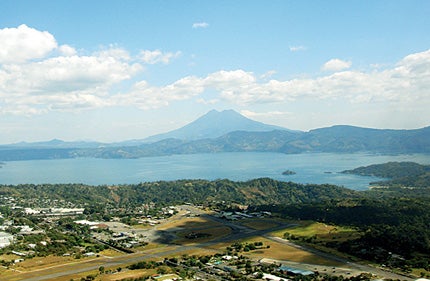 Weather delays caused unexpected pleasantries, such as the friendly hospitality of Southmost Aviation, during Patty's ferry flight from Florida to El Salvador.
Air shows are magnificent aerial productions. Performers travel from far to put on a display of skill, showmanship and passion for aviation. They meet new fans, and inspire pilots-to-be. It's a chance to bond with the air show family, and to learn local customs and culture. But sometimes, it's the journey to get there that creates the most memories—even when things don't go as planned.
The 2011 Ilopango Air Show in El Salvador was a fantastic blend of journey and destination. The air show, started in the mid-1990s by local pilots and the Salvadorian Aero Club, is one of Central America's most popular aviation events.
The Journey
I knew I wanted to fly it, but first, I had to find it. Charts show Ilopango Airport sitting on a volcanic plateau on the eastern edge of San Salvador, El Salvador's capital, and the fastest-growing city in Central America. I'm based in Northern Florida, so I would have to fly my single-seat Extra 300S across the Southeast U.S. to Texas, then south across Mexico and Guatemala. Unfortunately, the Extra is tad short on endurance, so I had to forgo the popular and much shorter route (by 900 nm!) over the Gulf of Mexico, from Key West to Cozumel.
Good friend and
Plane & Pilot
contributor James Wynbrandt agreed to fly to Ilopango with me. James had prior experience flying in Central America, speaks Spanish and flies a Mooney M20T, speedy enough for my Extra and roomy enough for all of our gear, including my large ribbon cut poles.
A trip like this requires more than just having the right charts, so we started planning well in advance. I called Sarasota Avionics to make sure I had all
the latest GPS upgrades. Baja Bush Pilots (now Bush Pilots International) and Jeppesen, which provided us with a trip kit, were helpful, but there were numerous forms and procedures to organize, including everyone's favorite new hassle, EAPIS.
Pilots love a mission, no matter what. On a cold Northern Florida morning in January, we took off from St. Augustine in formation with James' Mooney in the lead and my Extra on the wing. With Monday-morning optimism, we were hoping to get to El Salvador the next day before dark. But, reality hit later that day while sitting out a cold front in the pouring rain in Lafayette, La. As soon as ceilings lifted on Tuesday, we headed to Brownsville, Texas, and found a new favorite FBO: Southmost Aviation, a helpful and friendly family-run business. Putting the Extra in the hangar, we got everything ready for a Wednesday-dawn launch. Weather was forecast to be good: a mid-level overcast with scattered rain showers.
Crossing state or national borders is a seamless and beautiful experience for aviators. Sometimes, a river is the defining boundary, sometimes the land slowly transforms into something more foreign. Mexico becomes remote as soon as you cross the border. We were on our own during the 210 nm leg to Tampico, where we stopped for fuel and customs.
Page 1 of 3