Wednesday, May 25, 2011
The Journey Or The Destination?
A cross-country adventure to Central America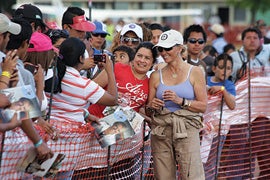 Patty at the 2011 Ilopangao Air Show in El Salvador, where she performed in her Extra 300S.
Our next fuel stop at Minatitlan was another 235 nm further. "Mina" is on the Gulf Coast, just before the land takes a turn northeast into the Bay of Campeche and the Yucatan Peninsula. This was where we would turn west and cross to the Pacific side of Mexico. South of Vera Cruz, we ran into darker skies and scattered rain showers, forcing us to fly lower and slower. With the water off our left, and Vera Cruz in our "rearview mirror" in case we had to turn back, we got a close look at the shockingly greasy and brackish-brown pollution washing up with every wave. The shore was devoid of birds and any other life.
After fueling at Mina, our next fuel stop 250 nm later was at Tapachula. To get there, we had to fly through a remote, narrow pass flanked by large mountains. The terrain rises to about 1,500 feet in the pass, and there's no weather reporting in the area. Taking off in formation, we chatted on our discrete frequency about how cool it would be that night to see our friends who were hoping we could join them on a "volcano cruise" for dinner! But in spite of our optimism, 60 nm west the clouds got lower, and the terrain got higher. We poked our noses around the edges of the scud, until we conceded it was time to do a 180 back to the security of Minatitlan's ramp. Marginal VFR in the Extra requires special attention. I like to slow down, but with the power back, the nose gets higher, and visibility is worse. If I get in the clouds, I'm definitely out of luck because I have no instruments and no "outs." The good news was that on our way back, the view at 300 feet AGL was spectacular. We saw a flock of bright-pink flamingos flying over the marsh, and the sight of them flying reminded me why I'm so lucky to be a pilot.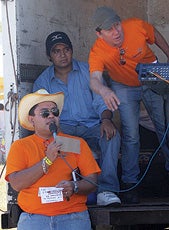 Thursday morning, after spending the night in nearby Coatzacoalcos, James and I took off, and turned back twice due to low ceilings. We were becoming very familiar with airport procedures. I looked for local pilots to talk to about weather patterns, but saw only an occasional airline or charter pilot who didn't have a clue about what was lurking in the valleys and hills where we had to fly. Luckily, we had found a nice hotel the night before, so all we had to do was survive the cab ride one more time to get back to it.
By Friday morning, the rain was pouring, and I was fighting depression. Was I going to miss the air show? The weather forecast for Mina that day was awful, and to make things even worse, a local told us we would have to wait three days to see improvement, and we should just give up! Years of VFR flying has taught me to never do that, and as the day progressed, the ceilings lifted, and the skies to the west brightened. We took off, and gratefully found the ceilings getting higher as we flew through the pass, rugged and spectacular, and into the sunshine.
Daylight is spare in January, and the Extra is day VFR only. We were anxious to get to Ilopango, but with the incessant stamping of papers and a surprise interrogation by the Mexican Navy, it was amazing we were able to extricate ourselves from the ground in Tapachula in less than two hours.
Our good humor returned as soon as we were back in the air, over the Pacific Coast with only 200 nm remaining to Ilopango. The inland mountains of Guatemala are impressive and forbidding seen from the west, across a large fertile coastal plain, but when you cross into El Salvador, you can see why the green and beautiful country was known by the Spanish as "The Place of the Diamond Jewels." Navigating around volcanoes to get into the bowl where Ilopango nestles, we found it easy to spot, sitting just west of a large freshwater volcanic lake.
Page 2 of 3