Tuesday, October 19, 2010
The Last Time
Half of the DC-3s in America celebrate the Gooney Bird's 75th
Number Two roars to life. Deep, thrumming vibrations shake Bernice "Bee" Falk Haydu's memories to their core. A lifetime ago she flew as a WASP for a cause, for a way of life that endures to this day but for her devotion and that of her comrades at arms. There has never been a generation like them. Pray there never need be another to go through what they went through. But they heard the call, they went, and they saved the world. And a DC-3 runs through the heart and soul of all of them.

Up in the cockpit, Dan Gryder pushes the big, ball-knobbed throttle levers forward. The throbbing builds to a shaking rumble as N143D leaves the air-show ramp at Whiteside County Airport, Sterling/Rock Falls, Ill. He has spent more than a year of his life summoning every flying DC-3 in America. Around half of all flying American Gooney Birds have answered the call.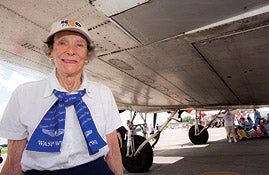 The historic gathering, in celebration of the 75th anniversary of the Douglas DC-3 aircraft, attracted the attendance of pilots such as Bernice "Bee" Falk Haydu, who once flew as a WASP (Women Airforce Service Pilots) flight instructor.
Bee Haydu feels the vibration in her very bones, and she's 24 again, living one day and one flight at a time as a WASP (Women Airforce Service Pilots) flight instructor.
More than 16,000 DC-3s were built. The type almost singlehandedly created the air travel industry. When America entered the war, the beefed-up C-47 version went to war, too—more than 10,000 of them, in all the major combat theaters.
For 75 years—the official birthday is December 17, 1935—movies and documentaries have showed Gooneys dropping hay bales to starving cattle in a blizzard, carrying paratroopers into combat and wounded soldiers back home, spraying a withering hail of minigun hot lead into Southeast Asian jungles, airlifting vital supplies for the Berlin Airlift, crop dusting and so much more. The Gooney Bird endured for several key reasons: reliability, easy maintenance, low operations cost and overall profitability.
Dan Gryder, veteran Delta 777 copilot and DC-3 owner, took up the challenge of celebrating the ageless transport. "We kicked the idea around of a big 75th anniversary celebration five years ago at a 70th reunion," he recalls. "That's where the seed was planted for me."
The idea grew in the intervening years, thanks to that other hat he wears: as the premier DC-3 flight instructor, a task he's happily undertaken since he bought N143D in 1999. "I'd bump into DC-3 people all the time, so I started a list. I personally know most DC-3 owners and pilots on a first-name basis—I probably trained half of them!"
Gryder is a genial, high-energy, blue-jeans guy who wanted to impart the same informal quality to The Last Time event. "I figured if we could get around 35 airplanes, that would represent half of all the DC-3s still flying in America. And I wanted to keep it free for the public to come out and enjoy these wonderful ships."
Gryder began raising funds for the airplane side of the event, wisely handing off-the-ground logistics to local community volunteers, who responded with fervid enthusiasm—hundreds of them—with numerous fund-raisers, food and lodging arrangements, vendor booths and even an authentic Army reenactment group that set up a World War II camp.
Page 2 of 3
Labels:
Aviation History
,
Classic Airplanes
,
Features
,
Journeys
,
Pilot Resources
,
Shows and Fly-Ins
,
Vintage Aircraft
,
Vintage Airplanes
,
Vintage/Classic Airplanes
,
Aviation Personalities
,
Aircraft
,
Adventure Flying