Monday, November 1, 2004
The Men Behind The Lens
Amidst a massive military aircraft launch, 150 aviation photographers gather to perfect their craft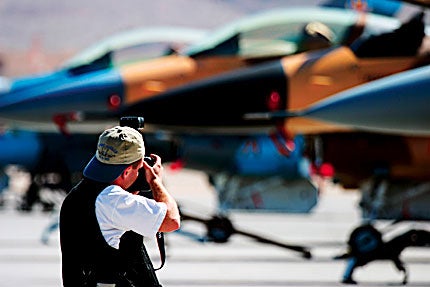 There it sits, waiting, a latency of brooding power. It's like the unprocessed image on a digital memory chip. Family: American warbird. Genus: Lockheed Stealth Fighter. Species: F/A-22 Raptor.

You can feel the deadly purpose rise from its gold-tinted canopy and cool, gray skin, like the heat waves that shimmer the Vegas Strip in the distance. The big bird poses for us beneath a sheltering awning, meant to block the intense sun, but still allows for enough daylight to seep in. That's good news for the Nellis Air Force Base (AFB) air-crew personnel. It keeps their brains from melting right out of their skulls. And it's good news for us, too, because light is what it's all about.

Think of us as a complete flock of lone eagles: around 150 professional aviation photographers and advanced amateur wannabes, who have come to "Sin City" to share our stories plus learn from top pro colleagues how to capture the beauty of those creatures we love above all others: airplanes.
The event, which was entitled ISAP (International Society of Aviation Photographers) IV, was cooked up three years ago by ISAP founders Jay Miller and Chad Slattery. This year's three-day event is the biggest yet.
At Nellis, none of us birdbrains passes on the slightest opportunity to load up our digital memory cards as well as film canisters with images. One of the highlights is crawling over muscular Iron Curtain flying iron: a Russian MiG-29 and Sukhoi Su-22 for openers and then an armory of Russkie whirly-birds, as well as missile launchers and ground-attack vehicles.
Miller and Slattery put together quite an impressive list of professionals, and who much better to lead off than general-aviation meistershooter Paul Bowen? He has been a mainstay of general-aviation imagery for a quarter of a century. After an affable presentation on how to keep safety shoot air-to-air photography ("You most certainly need to have excellent communication between the photo ship and the airplane you're photographing," he advises), Bowen shared the prides and pitfalls of his own transition into digital photography, including helpful insights into how he and his wife run their photo business.
Seiichi Nakajima from Japan dissected digital-image capture technology, while Mike Kline, art director for AOPA Pilot magazine, shared tips on what all editors and art directors are looking for when they select images. Joe McNally gave us a rousing presentation of his Nikon SLR digital shoots for the renowned
National Geographic
and the Lockheed Martin F/A-22.
Page 1 of 3