Monday, November 1, 2004
The Men Behind The Lens
Amidst a massive military aircraft launch, 150 aviation photographers gather to perfect their craft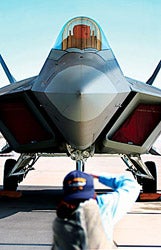 And then, several words from our sponsor, Canon U.S.A., spearheaded by Dave Metz, the director of professional products and longtime champion as well as sugar daddy of aviation photographers. Aided and abetted by regional tech rep Dave Carlson, Metz showed off Canon's latest gear. Nikon, AOPA,
Air & Space
magazine as well as Lockheed Martin also sponsored and supported the event with lots of presentations, gear and photos, while George Hall did his own take on the digital-photography revolution.
There were certainly many surprises. Paul Bowen as well as George Hall spoke about computer image processing time. We discovered that we were spending about twice as many hours in front of the computer monitor as behind the camera. One solution? Bill the client for the time!
Prolific Brit photographer, Mark Wagner, (he has shot more than 2,000 covers for the weekly magazine
Flight International
) gave a funny as well as inspiring discussion about his transition from film to digital imaging, as well as his experiences with working on Adobe Photoshop. Jim Koepnick, who runs the prodigious EAA photo load with ace-formation pilot Bruce Moore, gave a detailed and valuable presentation on safe and sane air-to-air shooting.
Incontrovertible was Koepnick's own view of the important role that air-to-air shooters must be willing to step into: safeguarding the mission. "Photographers are the greatest safety influence. You have to brief everyone on how you want each shoot to run, then stick to what was discussed. No surprises, or you're asking for trouble."
After the USAF Thunderbirds bend our minds with maneuvers that your own college physics professor would proclaim impossible, we bus out between the left and right runways for the crowning glory of our day at Nellis: the chance to shoot a "Red Flag" launch at ground zero.
Red Flag is quite a massive, multinational combat-training exercise involving troops and aircraft that Nellis puts on several times a year. We find our vantage points in the desert between two very long runways. The tension as well as excitement begin to rise because, before long, all hell is going to break loose.

Page 2 of 3