Tuesday, January 22, 2013
The Patriots
This civilian aerobatic jet team showcases military flying skills and gives back to aviation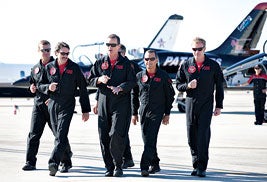 Patriots team lead pilot Dean "Wilbur" Wright leads a walk-through prior to the team's six-ship formation performance at the 2012 MCAS Miramar Air Show. The team is made up of former U.S. Air Force Thunderbirds, U.S. Navy Blue Angels, Royal Canadian Air Force Snowbirds and highly experienced civilian pilots.
"If you read these people's résumé, you're amazed that they are willing to put all that talent to work for the Patriots," Howell says, shaking his head. His team members do it all—from travel to maintenance to administration—just for the love of aviation and the pride that comes from achieving a common goal. For the Patriots, that means putting on a breathtaking show while maintaining a strict margin of safety, and as of 2010, to inspire the world's future pilots.
Jet Team Foundation
Perhaps the most important aspect of the Patriots is their dedication to taking aviation to tomorrow's pilots. It's no secret that aviation's future in the U.S. is on shaky ground with declining student pilot populations and diminishing interest in aviation careers. In response, the Patriots have created their own youth-directed foundation.
Launched in 2010, the Patriot Jet Team Foundation is a 501c(3), non-profit organization whose mission is to provide air and space education programs to youth to inspire them to seek careers in the aerospace field. Formed by Howell and his wife, Marie, the idea for the foundation was, "Developing innovative educational programs that combine the high energy of our Patriots Jet Team partners with exciting, hands-on curricula that will provide students with learning skills and experiences of a lifetime."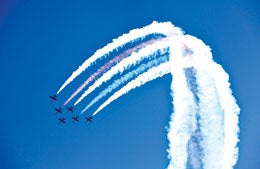 In June 2012 the foundation moved into the Patriot's 35,000-square-foot hangar facility at Byron Airport in the Bay Area. The team is a key part of the foundation, providing motivation and hands-on experience to students. There are "work nights," regular interaction with team members and the opportunity to volunteer with the team. The foundation has created the Patriots Aerospace Academy to offer aviation education programs to kids 14-18 years old. Their latest offering is a complete aviation ground school that allows students to pass the FAA private pilot written exam. It's free.
The Show
The Patriots eschew their counterpart's lengthy and ceremony-laden walkout to the jets and get to what everybody came to see: the flying. After a precision taxi out to the runway and a formation takeoff, the Patriots get down to business.
A Patriots show has several highlights. First, the team can't rely on the sheer power of the Blue's F-18 Hornets, or the T-Bird's ferocious F-16—both equipped with afterburners. The lithe L-39 isn't as large or domineering as those fighters. Instead, the team keeps jets at air show-center constantly, eliminating the "dead time" common to the military teams.
Page 3 of 5