Wednesday, September 1, 2004
The Search For Amelia
Sixty-seven years later, the mystery behind the disappearance of Earhart and her Lockheed Electra might soon come to an end
It was so compelling that Jourdan enlisted the help of Rockwell Collins' expert radio ham operators Tom Vinson and Rod Blocksome to aid with the radio signal propagation analysis of Earhart's final transmissions to the Itasca. Through computer models, flight simulations and Nauticos' own navigational analysis, Vinson and Blocksome meticulously pieced together the strength of each radio signal recorded on the
Itasca
's logbook to estimate how far away the Electra was at each of the transmissions.
The results of the analyses finally culminated in March 2002, when Nauticos led an expedition to search 1,000 square nm of the ocean bottom in the waters off Howland Island. Using a sonar search system called NOMAD, the team scanned the bottom of the ocean floor for anything that would indicate an airplane wreckage of some sort. After having covered 630 square nm, however, a hydraulic leak, failed winch and damaged hydraulic pump sent the crew sailing back home—empty-handed.
But this unexpected event hasn't stopped Jourdan from going back. "We had uncovered 630 square nm of ocean bottom," asserts Jourdan with pride. "And on our next trip, we won't have to look there again. We know it's not there. So we need to finish what we started, and I think the chances are as good as ever that Earhart's plane would be found in that remaining area."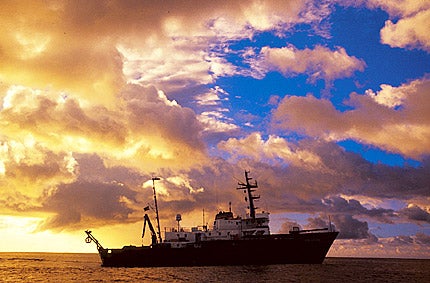 For six weeks, the ship called the R/V Davidson was home to the Nauticos team while they searched 630 square nm of the ocean floor for the Electra.
Paradise Lost
But Richard Gillespie, executive director of the nonprofit organization The International Group for Historic Aircraft Recovery (TIGHAR), disagrees. He, unlike Jourdan, believes that Earhart crash-landed on Nikumaroro Island, an atoll in the Phoenix Islands in the South Pacific, and died of thirst.
"The trouble is that there's no indication that she crashed at sea," explains Gillespie. "There was no distress call. There was never any floating wreckage found, not even an oil slick."
TIGHAR started its search around 15 years ago, when TIGHAR members Tom Willi and Tom Gannon asked Gillespie to consider their theory about the Earhart disappearance. They explained how celestial aerial navigation works and the significance of Earhart's last transmission to the
Itasca
, when she said, "We are on the line 157-337." They claimed that if she was running north and south on that bearing with three hours of fuel left in her tanks, she would end up at Nikumaroro Island. But what prompted Gillespie to fully commit to the project was the fact that the uninhabited island was never ground-searched by the U.S. Navy, even though there were signs pointing to human life at the time, including an airplane wreckage, stories of two stranded fliers and even a Caucasian female's bones.
So, armed with a team of experts consisting of archaeologists, forensics scientists and aircraft-recovery specialists, Gillespie launched eight excavations to Nikumaroro Island, where he melded two seemingly different treasure-hunting techniques—19th-century archaeology and modern-day forensics. "We use things like GPS for locking positions, metal detectors for airplane parts and some modern types of surveying equipment for the archaeological work. But generally speaking, it's traditional forensic archaeological science," describes Gillespie.
Page 2 of 3