Tuesday, July 23, 2013
To Honor & Inspire
A rural Nebraska town gets an unexpected visit from the Texas Flying Legends
And then the rain started. Up ahead looked even worse, so a decision was made to divert to the nearest airport, Chadron Municipal, in the northwest corner of Nebraska. After several orbits to configure the approach, our eight-ship touched down safely. Coming off runway 29, I could make out a small crowd on the wet ramp. Our unmistakable growl overhead had drawn the local community to the airport, in hopes of a glimpse of our traveling showcase of history. The instant we shut down and climbed out, our defeat was replaced by delight: the awe of onlookers admiring the World War II birds and chatting with the crew. This impromptu and intimate meet-and-greet hadn't been planned, but it was exactly what the Flying Legends are all about.


(left) Congressman Sam Graves flies the 1,900 hp TBM-3E Avenger. (right) Last Samurai is an A6M2 Model 21 Zero and is one of only a few flying Japanese Zeros left in the world.
After several hours of watching the weather, we bid farewell and launched a second attempt to reach Rapid City, 70 nm farther north. This time, we traveled in two groups: fast (Mustangs, Corsair, P-40) and "slow" (B-25, Zero, Wildcat, Avenger). My ride in the B-25 was cold and bumpy, and we had only been in the air a short while when a P-51 radioed from ahead with bad news: "There's a black hole of death over the airport." We made a 180 and headed back to Chadron, rain intensifying.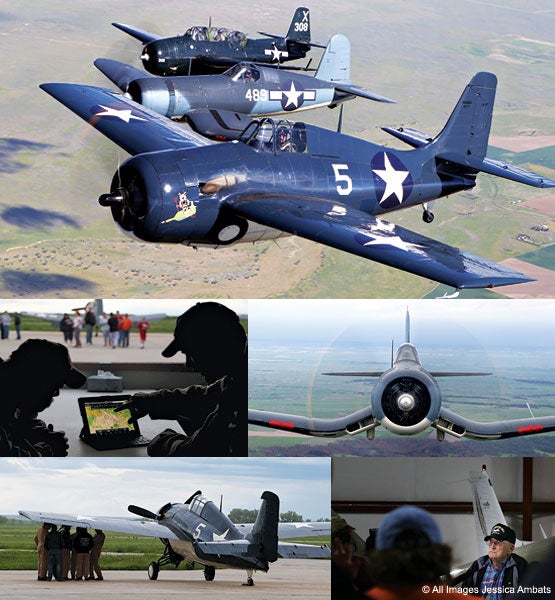 Bad weather forced the eight-ship of warbirds to deviate to Chadron, Neb., much to the delight of the local community.
As we taxied to the now-familiar ramp, the community emerged again—elated, with some vets donning uniforms. A woman explained how she and her husband had rushed to the airport earlier when word spread of our first arrival, but they had arrived moments after we had departed. As they drove home disappointed, what sounded like the hum of warbirds resonated through the beating rain. To be sure, they pulled over and turned the car engine off. The hum had escalated to a roar! They turned back to the airport, thrilled at the opportunity. Again, our misfortune wasn't such a misfortune after all.
Page 2 of 3