Tuesday, July 23, 2013
To Honor & Inspire
A rural Nebraska town gets an unexpected visit from the Texas Flying Legends
The forecast looked bleak, and an overnight stay was now the best choice. With eight aircraft to fuel, unload and reposition, it took some time. The Chadron community was as eager to marvel at the planes as they were to lend a helping hand. A local pilot cleared space for the Zero in his hangar, where a group gathered around the Last Samurai to hear a vet tell his flying stories. Others loaded up their cars with our bags and shuttled us along Crazy Horse Memorial Highway to a hotel in town just in time for dinner.

By chance, Chadron was sending a small group of WWII veterans on an Honor Flight to Washington, D.C., the following day. It was another perfect opportunity for the Texas Flying Legends to do what they do best. Without hesitation, president Tyson Voelkel arranged for a fly-by of the Mustangs over the festivities. I strapped into the backseat of Little Horse, flown by Mark Murphy, and we departed as a two-ship with Casey Odegaard in Dakota Kid II on our wing.

The radar improved midday, and we headed north once again. Mount Rushmore is inspiring from any angle, except perhaps the middle of a weather system. High winds, brutal turbulence and low clouds over the Black Hills forced our attention elsewhere, and the pass was limited to the Mustangs. But at that point in the adventure, a glimpse of the National Memorial was just icing on the cake. The true story was on the ground, measured in gasps of wonderment and jumps for joy. As the Texas Flying Legends pulled onto the ramp in Rapid City, S. D., a line of spectators waited eagerly—the next audience of young and old to be inspired and honored.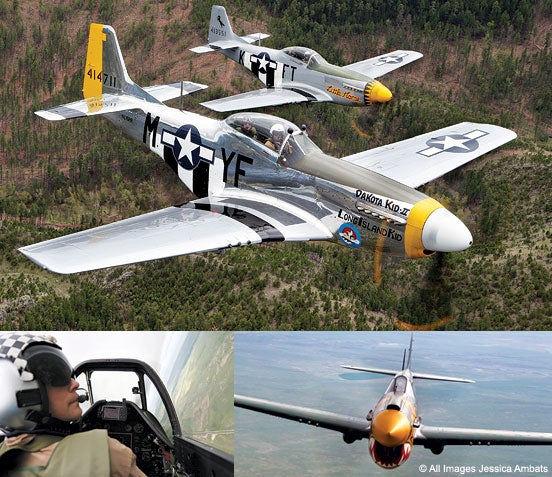 Mark Murphy (left) flies Little Horse off Casey Odegaard in Dakota Kid II (above). Doug Rozendaal pilots the Aleutian Tiger, a P-40K Warhawk.
Page 3 of 3