Saturday, May 1, 2004
Tuskegee Tradition
Named Double Vee for the victory over Europe and discrimination, this Texan is the only remaining AT-6 once assigned to the Red-Tailed Angels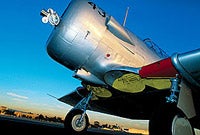 To ensure the authenticity of his restoration, Cowell consulted as many members of the original Tuskegee Airmen as he could find and coordinated the details with the National Air and Space Museum.
With that knowledge, Cow-ell's mission changed from one of simply maintaining a classic warbird for fun flying to restoring and displaying a piece of aviation history. In examining Air Force records, Cowell learned his airplane had been delivered from the North American plant to Tuskegee in March 1943 and had served as an aerial gunnery and air-combat maneuvering flight trainer until June 1946. After that, it served time at various USAF installations in Missouri, Oklahoma, Kansas, Tennessee, New Hampshire and Georgia before being surplused to storage at Davis-Monthan AFB in Tucson, Ariz., in 1956.
In light of its historic significance, Cowell renamed the airplane Double Vee (for victory in Europe and victory over discrimination) and resolved to restore the airplane to its original configuration and appearance, working on his own and with help from others. He contacted as many members of the original Tuskegee Airmen as he could find, researched North American's records and coordinated every detail of the airplane's restoration with the Smithsonian National Air and Space Museum. "I'd sometimes spend days or even weeks trying to determine the exact color of a particular knob or control," Cowell comments. "The idea was to completely restore the airplane to its exact appearance in Tuskegee."
The renovation proved a tougher and more expensive job than Cowell could have possibly imagined. "I was landing at Longmont, Colo., in July 1998 when a steering cable on the tailwheel let go and I lost all directional control. The airplane charged off the runway and hit a taxiway sign," Cowell recalls. "The Texan wound up on its nose with a collapsed gear and substantial damage. Unfortunately, the insurance company wanted to total the airplane rather than repair it."
Cowell investigated every option for repairing the classic warbird and completing the reconstruction, and he finally decided the T-6 deserved nothing less than a first-class, professional restoration. Despite the cost, Cowell had the airplane disassembled and trucked to Nelson Ezell's shop in Breckenridge, Texas. "Nelson has perhaps one of the best reputations in the industry, and he helped me every way he could. I took a considerable amount of my savings, borrowed against several other reserves and even sold my watch to pay for the work," Cowell remembers.
Two years and more money than he cares to remember later, Cowell's immaculately restored AT-6 was finished. "I'm not sure you can say a project such as this is ever truly finished," Cowell explains, "but Ezell's meticulous renovation was done and the airplane was back in the air by 2000."
Since the Tuskegee T-6's return to service, Cowell has campaigned it to air shows across the U.S., doing his best to keep alive the memory of the African-American pilots who paid the ultimate price during WWII. In recognition of Nelson Ezell's painstaking restoration and Cowell's dedication, the National Air and Space Museum and the National Aviation Hall of Fame named Cowell and his T-6 the People's Choice Award winner for 2001. The airplane has been featured on local television stations all over the U.S. and received coverage by the Discovery Wings Channel following its appearance at the Dayton 2003 Wright Brothers Commemorative Air Show.
The "accidental historian," Steve Cowell, didn't set out to become a passionate Tuskegee missionary, but the more he learned about the black airmen from Alabama, the more he was convinced their story needed to be heard. "I believe you can achieve an uncompromised victory, no matter what the battle, just as the Tuskegee Airmen did, as long as you keep your heart in your dreams," says Cowell. "There are some things that simply should never be forgotten. Most of the Tuskegee Airmen are gone now, but Double Vee and I plan to keep their story alive as long as we can."
Page 3 of 3