Tuesday, February 7, 2012
Visiting America Airport By Airport
A journey through the Midwest in a Pitts Special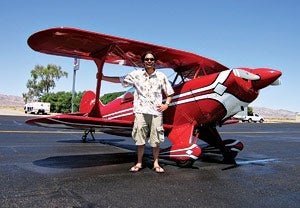 Matt Rickman's flight in his just-purchased Pitts biplane from Chicago to Los Angeles was an eye-opener both in the air and on the ground.
"We're not going," I said. "Lightning."
"Could it have been the flash from my camera?" asked Rickman. He demonstrated: Despite being wedged into the front cockpit, wrapped in parachute straps and tethered by seven seat belts, he could still manipulate his digital camera; it had been the same flash. I decided I didn't have him strapped tightly enough. We continued, but within minutes, growing concerns about en route weather persuaded us to abort.
Day Two
We breakfasted without incident. Passing a roadside marker during the drive to the airport, Rickman revealed just how much he had to learn about the U.S.: "Who were Lewis and Clark?" We gassed and returned the Crown Vic, left a note for Phil and retrieved the Pitts. Our weather checks indicated the lingering storm system would push our next two legs south: first, Hayes in Kansas, then out of the Great Plains into Oklahoma.
Guyman, Okla., had three twin Beeches baking in the sun—one a tri-gear. They looked like every other twin Beech I've seen—an indeterminate state somewhere between flyable and abandoned.
"Do they fly?" I asked the refueler.
"Two of them do. That one's new," he said proudly, pointing at the nosewheel model. It was perhaps 40 years new. Aside from gear placement, there was no visible difference from the others.
It was nearing lunchtime, but with nothing available, we moved on toward New Mexico and Tucumcari airport. The scenery completed its change from lush green to uninviting brown, and with that change came rising terrain. I soon was able to point out the faint loom of the Rockies to the northwest.
It had been a long time since breakfast, but the FBO offered no food, so we shared a banana appropriated the morning before in Chicago.
On our next leg to Albuquerque, the terrain kept rising, and so did we, seldom getting more than 2,000 feet above the ground, but climbing steadily until we reached 10,000 feet above sea level.
High in the mountains ahead, Albuquerque showed up. We shunned the big commercial airport in the middle of town and headed instead for Double Eagle several miles further west: two immense runways, and so far out of town there's hardly a house or commercial building in sight. The tower lost sight of us after touchdown: "901Z, where are you?"
That was it for the day, and we looked for a hotel.
Day Three
Home stretch: Winslow, Ariz., then Needles, Calif., then Orange County. The first hop was smooth. Winslow is at 5,000 feet, so temperatures on the ground were pleasant.
I had speculated the most interesting thing about Winslow would be a celebration of "Standing On The Corner Day," an annual event staged in honor of an Eagles' lyric from the 70s, but it turned out the town has an even more distinguished point of reference: the full airport name is Winslow/Lindbergh, and the field was conceived and designed in 1929 by Charles Lindbergh as part of a contract to lay out a coast-to-coast route for Transcontinental Air Transport (soon to be TWA). This was more like it: names Rickman couldn't fail to recognize mixed with an interesting bit of history.
Page 2 of 3