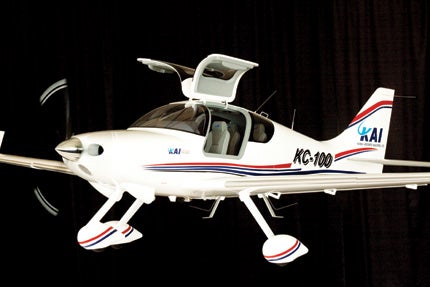 KAI KC-100
The heart and soul of civilization, if you buy the exhaustively researched conclusions in Matt Ridley's top-selling book The Rational Optimist, has been trade between the world's people, from the very beginnings of humankind's first yearning to explore and occupy the far horizons of planet Earth. Trade, in turn, is fueled by innovation, which often flourishes not because of, but in spite of, governments, kings, wars, restrictive trade agreements and the rest of the factors usually implicated in nation building. It's innovation through specialization that drives progress ever forward. And we've become increasingly, fantastically specialized as a species throughout history. Despite the doom-and-gloom hysteria drummed up daily by the news media, people all over the world work fewer hours for the necessities and luxuries they buy than ever before in human history. We live longer, fewer people die in wars, and more people have more food to eat than ever.
So how, I'm sure you ask, does all of this relate to our fall roundup of new aviation products?
Simply scan down the list of what's debuted in the last several weeks and you'll see innovation in full and glorious array: new, lower-priced, more powerful handheld GPS displays; incredibly effective noise-cancelling headsets; in-production electric aircraft; bold new aircraft with roomy, comfy automobile-like interiors; even more innovative flight training software for the iPad; bolt-on pods for carrying fold-up motorcycles and a whole lot more.
Tough times may tighten belts and slow markets. But product innovation, driven by the creative dream of safer, more enjoyable, more efficient flight, only seems to thrive with ever more amazing diversification and nuance. You can't keep a good idea down, as the cool new "air wares" on the next few pages prove—and this list is only part of what has come out recently.
Read on and rest assured: General aviation is alive and well and living in the imaginations of engineers, designers and innovators around the world.
KAI KC-100
www.koreaaero.com
The East Asian manufacturing company Korea Aerospace Industries (KAI) turned more than a few heads with the model of a GA aircraft it intends to develop and market by 2014: the KC-100. Aimed directly at the Cirrus SR22 and Cessna Corvalis markets, the aircraft bears more than a passing resemblance to the former, right down to its two distinctive gull-wing doors.
The composite and carbon-fiber design will hope to compete with a slightly wider cabin and a suite of impressive features, including the Avidyne Entegra R9 avionics system, standard TKS ice protection and oxygen. Even air conditioning will be available.
Power will come from a FADEC-controlled Teledyne Continental 550-K turbocharged mill, which KAI claims will bestow a 190-knot cruise speed with a range of 1,200 nm. A useful load of 1,100 pounds or more is projected.
Whether the KC-100 ever sees the light of day in America remains contemplative. The state-owned company will certify the design for the South Korean market first, and the design may go through several modifications before a working prototype is flown.
This company knows aircraft though: It has built F-16s, T-50 advanced jet trainers and other aircraft under license for years.
---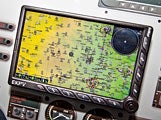 AvMap EKP V
AvMap EKP V
www.avmap.us
The latest version of AvMap's ever evolving portable GPS, EKP V, will fly out to cockpits by the end of this year. The buzz is righteous: The EKP V nests into the instrument panel via a new docking station, which is wired to other devices so the bright seven-inch LCD can display weather info, artificial horizon, anticollision info or whatever else is available—an innovation AvMap claims as a first for portable GPS.
The EKP V is thinner (.8 inches) and lighter (only 14 ounces) than its predecessor. Other changes include a "two-sides" keyboard with 10 hard keys, a progressive joystick and a smart wheel selector. The graphic interface is upgraded to increase customization, so pilots can choose what to display and where on the screen they want to display what: TAWS, weather, NAV, HIS and more. And playing off the EKP V's porta-
bility, AvMap has programmed in the ability to record individual profiles for different aircraft.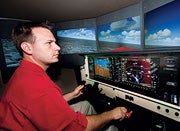 Redbird Parrot
Redbird Parrot
www.redbirdflightsimulations.com
Control tower fever, a malady that strikes pilots with heart palpitations, moist palms and rubbery tongues just before they make aircraft radio communications, remains a major psychological hurdle for flight students.
To help, Redbird Flight Simulators developed Parrot, a new artificial intelligence software module that understands radio calls and answers with appropriate, real-world responses. Parrot effectively simulates air traffic control communications by "knowing" where the airplane is at all times.
For example, if a flight school's Redbird simulator (several models, including the full-motion FMX), is programmed for a specific airport with weather challenges such as low IFR, Parrot delivers information appropriate to that situation. All frequencies will respond as if the student were flying into or away from the actual airport in bad weather: ATIS, ground control, tower, clearances and more.
It's a smart system, alright. For example, if the student doesn't give a correct ATIS code, i.e. "Information Kilo," Parrot will give instructions to go back and listen to the announcement again! If a student gives the wrong readback, such as pretakeoff instructions, Parrot won't allow takeoff until the student gets it right.
Dial in the wrong freq and Parrot won't respond, just like in real life. Asking for help elicits corrective instructions. It's all quite amazing. Available in the first quarter of 2011.

Bose A20
Bose A20 headset
www.bose.com
Imagine giving demos all day in the Bose booth at the recent Oshkosh. Large speakers constantly thrummed with very loud aircraft engine noises. So strong, in fact, that they vibrated your innards the closer you got! Of course, it was all to test the effectiveness of the new Bose A20 headset, and an impressive piece of essential hardware it is, indeed.
Noise-cancellation technology was invented by Dr. Amar Bose in 1986, and many companies have incorporated it into their headsets. But Bose continues to innovate. At Oshkosh, as soon as the noise-cancelling switch was activated, the annoyingly loud engine noise hushed to a mere whisper. Bose claims the new A20 has better noise reduction in even louder environments.
Other features abound, including Bluetooth mobile-phone compatibility and new, very comfortable ear cushions that have more ear room and don't leave eyeglass-stem impressions in your temples. A very cool feature: If you're cruising at 14,000 feet on autopilot and listening to your MP3 collection, any outside radio communication immediately phases out the music.
---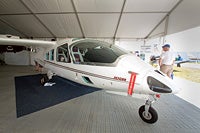 OMA SUD Skycar
OMA SUD Skycar
www.omasud.it
Amidst the current hoopla surrounding flying cars, here's a pusher twin with the word "car" in the name that seemingly obfuscates the discussion. However, Italian aircraft manufacturer OMA SUD's latest design, the Skycar, will never see a highway. You can forgive the company's PR department though. To sit in the Skycar is to be reminded of nothing so much as a large family automobile.
This five-seater twin (three seats behind two) has a really interesting twist: an impressively large "trunk" accessed from the rear of the low-slung, sleek-fuselage design, between its short twin tails! Two 200 hp Lycoming IO-360 engines mounted to the trailing edge of the high shoulder wing give the push. Retractable gear handles unpaved airfields, says OMA SUD, and there's a full glass cockpit with a 3D synthetic vision MFD. "Skyvan" would work too: Rear seats come out for an even larger cargo space.
The Car approach is key here though, right down to its huge wraparound windshield and large, automobile-like cockpit doors on each side. All flight controls are electronically coupled. Target specs include cruise of 145 knots at 75% power, a 1,224-pound useful load and total fuel capacity of 132 gallons. Skycar was officially certified with EASA (European Aviation Safety Agency) and may be FAA-legal by the end of 2010.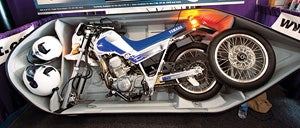 Motopod
Motopod
www.motorcyclepilot.com
Don't sacrifice ground-mobility fun on aviation adventures any longer: With the Motopod, you can have your wings…and wheels, too. The clever add-on is the brainstorm of aeronautical engineer David Shelton, who worked on roadable aircraft designs before concluding there must be an easier way. The Motopod is an aircraft belly container for a collapsible motorcycle that's easily configurable and roomy enough for golf clubs, bicycles, skis, camping gear or a portable bratwurst cooker, if you're so inclined.
"One in five pilots rides a motorcycle," Shelton says. "With a cordless drill, you can raise or lower the pod from the airplane in 30 seconds, just like a spare tire." The company also offers a Yamaha XT 225 cycle with modified, nonspill plumbing, smaller wheels, shorter suspension, and it's all street-legal. Shelton may offer an electric motorcycle with a 40-mile range soon.
The Motopod is currently in production for the RV-10 experimental plane, which makes tweaking and mods much easier than a certified design. "But our certification plan includes the Cessna 182 and the Cirrus next, and we'll go on from there." Shelton expects the STC for the Cirrus will be completed within 12-24 months.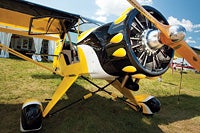 Kitfox Model 7
Kitfox Model 7
www.kitfoxaircraft.com
Anybody who's stuck even the tip of their nose into the homebuilt aircraft phenomenon over the last 25 years has heard of the Kitfox, one of the most popular homebuilts ever at nearly 5,000 kits sold. Several changes to its name and its manufacturers have brought the company back into the hands of John McBean. Fast forward to 2010 and McBean's latest spin on the venerable Kitfox: the model 7. And this time it's got a true radial under that cool round cowl, an Aussie-made Rotec that spins out 110 hp from its seven cylinders.
The germ for the design, says McBean, was purely aesthetic. "We wanted to offer something of the original Kitfox radial look to our customers." Oshkosh 2010 prize judges were paying attention: The Model 7 won the Bronze Lindy Award for kitbuilt aircraft.
The Rotec R2800 swings a wooden prop on the Kitfox and, like its time-honored ancestors, likes to gobble up the oil. "Don't choose a radial," says McBean, "unless you don't mind burning oil." The engine has been getting upward of 1,200 fpm climbs, and has graced several experimental designs here and abroad. The airplane may be offered as an S-LSA, depending on demand.
---

Technam iPad
Tecnam iPad Sport Pilot Course
www.tecnam.net
Tecnam, the Italian aircraft manufacturer, has a new flight training package that runs on an iPad. The Sport Pilot and Private Pilot courses are the first out and will be augmented by commercial and multi programs as part of the TFC (Tecnam Flight Center) network.
Developed in collaboration with MS Aviation and Hilton Software, the proprietary software makes it easy for students and instructors to readily tell which training methods are working best.
Tecnam's flight schools will also be able to better monitor an instructor's effectiveness. The iPad drops into the center panel slot of Tecnam trainers, such as the P-92 Eaglet, for georeferencing sectionals, airport info and much more. Course materials will be constantly refined and immediately uploaded, wirelessly, to students. The program is available as an online download from the Apple app store, and is intended as a study, test guide and training aid for students.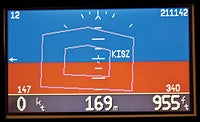 Virtual HUD Wingman
Virtual HUD Wingman
www.virtualhud.com
The Wingman is the first portable attitude display, and it also shows position and velocity by connecting to a handheld GPS with a standard RS-232 Serial Interface cable. Pilots can plan flight details with the GPS then have altitude, position and velocity automatically read out on the Wingman. The display serves up standard EFIS symbology in a tidy little package that includes a battery. Using built-in sensors, Wingman projects flight path information using highway-in-the-sky path markers. For such a small package, it's pretty impressive.
Information from the device can be ported over to the Virtual HUD display that has to be seen to be believed…shades of Top Gun! The company also notes that since most GPS vendors provide optional GPS NMEA Interface cables, it will modify the cable to support the Wingman and the GPS with a single power adapter.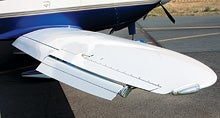 Lam Aileron
Lam Aileron
www.lamaviation.com
The Lam Aviation Aileron could be a real game changer. The redesign of the basic flight control surface that's been around from the dawn of aviation, Lam's innovation promises greater fuel efficiency, range and useful load by optimizing both high-speed cruise and low-speed performance, usually an un-welcome either-or compromise designers must make.
The design works by combining the functions of both flaps and ailerons. Two panels, one on top of the other, can deploy as a single aileron unit. The upper aileron panel only goes up from the neutral, streamlined position. The lower, auxiliary "flap" panel can go both up and down from neutral. The panels operate independently or together, which means they affect the air flowing over the wing as an aileron for roll control, or as an aileron and auxiliary flap to provide downward, whole-wingspan deflection, greatly enhancing low-speed operations such as for landing. In addition, the aileron/flap separation can be mixed for effective use as speed brakes or drag rudders. The Lam Aileron was conceived by aerospace senior research scientist Larry Lam, who worked for Lockheed, McDonnell-Douglas, Hughes, and Rockwell during his illustrious career before passing away in March 2010. Larry and his son, Michael, co-founded Lam Aviation, and have partnered with designer Greg Cole of Windward Performance to refine the Lam Aileron, which is currently in flight-test evaluation on a Cessna Corvalis airframe.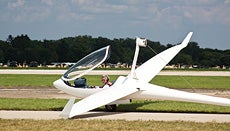 Antares 20E
Antares 20E
www.lange-aviation.com
Winner of the Lindbergh LEAP award at Oshkosh 2010, the Antares 20E is the world's first production electric aircraft. The motorglider optimizes the still-minimal capabilities of electric power plants by giving the soaring pilot self-launching capability, then maximizing the potential for staying aloft by allowing the power train to retract into the fuselage for streamlined flight.
There are other benefits: no gas or oil, no engine noise, no combustion engine complications at all, in fact. Watching the motorglider perform at Oshkosh with whisper-quiet sound signatures was a revelatory experience. And the performance of the 31:7 aspect ratio, 65.6-foot wing is no slouch, with a 56:1 glide ratio and a sink rate of just 96 feet per minute! Power up to 3,000 feet, and even with no lift at all you'll get 30 minutes of flight.
The power plant is a 42 kW (57 hp equivalent), brushless DC motor that cranks up to 1,500 rpm and gives 728 fpm climb at full gross weight of 1,323 lbs. The "fuel" is by Li-Ion batteries, which provide 13 minutes at maximum power and max climb speed and will retain an impressive 80% of full power even after 3,000 charging cycles. Modest as the power performance is, you can mark the Antares as an important vanguard of a new age of electric-powered aircraft.