The iPad is slick, dazzling and infinitely upgradeable, with over 100,000 applications in Apple's App Store. It lets a pilot check e-mail, reserve a hotel room, scout for the $100 burger, and play a game of Scrabble. A fully loaded iPad 3G is just $829, an absurdly low price relative to other aviation costs.
We love the iPad in the cockpit, so long as pilots are aware of a few caveats. The iPad isn't FAA certified, and anecdotal testing of the GPS in the 3G model shows it to be a lot less accurate than even a Garmin 296 sans WAAS. That said, some of the applications really need the GPS. There's no sense in buying a moving-map application if your only position information is from back-tracing your IP address, which is how the WiFi model "finds" you.
There are no refunds from the App Store. Very few of the applications we looked at have free trial versions, so do some research before committing to the more expensive ones. We take a look at the top 20 apps a pilot should purchase to transform their iPad into the ultimate EFB.
Several promising applications were still in development at press time and may not be released even as you read this. As a pilot and iPad owner you should still keep an eye out for them.
AccuWeather.com
Pilots care about the weather for the next several TAFs. Passengers care about the weekend forecast. Occasionally, you'll need to break out a civilian weather tool like AccuWeather.com. It's worth the dollar to not have the ads, and the developers really understand the iPad user interface. $.99, www.accuweather.com
AeroWeather
This app is perfect for student pilots because it's free! There aren't a lot of features, although when you're on your long, solo cross-country, it's great to be able to know the METAR at your next two airports—you did a full briefing before the flight, but it's nice to know the marine layer didn't roll in, right? Free, www.aeroweather.ch
iPad Goes 'Round The World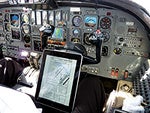 Adventurers joining Thierry Pouille and his Air Journey team on an around-the-world guided flight each have received an iPad that's updated daily on their 72-day, 25,000 nm trip. They're circumnavigating the globe comfortable in the knowledge that they have a complete weather briefing (including the latest data on the volcanic ash clouds in Europe), images of their destination airport, NOTAMs, radar images and the details for the flight itself. View their journey at www.airjourney.com/blog.
---
Air Navigation Pro
This app is especially useful to students and instructors because it provides a simulation of an HSI with moving map to show your navigational aids, airport and flight plan. Along with the price of the application you may need to buy a few terminal-area maps, depending on your use. $37.99,
www.i-flyte.com
Beacon North America
This all-in-one EFB app features seamless georeferenced charts and georeferenced approach plates. It offers a perspective view of the data, which is an incredibly intuitive way to maneuver around complex airspace. The feature-rich app offers the ability to set a user waypoint on the map just with a touch, and fields at the top of the moving map can be customized as if using a mini G1000. There even are reminder timers for switching fuel tanks and configurations for multiple pilots. $249, www.zivosity.com
Flight Control
This game is maddeningly difficult, and you easily can spend the few hours you need to wait out a thunderstorm in an FBO playing controller, directing small planes, airliners and helicopters to fly patterns and land on appropriate runways. $4.99, www.firemint.com
Flight Guide iEFB
With detailed information on more than 5,000 airports in the U.S., Flight Guide has information that no one else has. Their little brown book probably has a secure spot near the left seat in your cockpit, but now you're able to replace it with your slim iPad instead. Rather than just giving you all three Flight Guides in a searchable form, the publishers have moved on to create a real EFB. There are georeferenced charts, approach plates for every state and weather images. The app will feel very familiar to any pilot who has used Flight Guide Online on the company's website. $9.95, www.flightguide.com
FlightPrep
This app, still in development, will feature a well-thought-out EFB. With years of experience developing software to run on both their ChartBook electronic flight bag systems and on a system accessible from any web page, FlightPrep programmers are excited to bring it to the iPad. They have a deep understanding of how new technology can enhance existing steam-gauge cockpits, and how to create a turnkey solution that pilots will be looking for. Price TBD, www.flightprep.com
ForeFlight Mobile 3 HD
From preflight (flight planning, radar images and METARs downloaded), to cruise flight (moving map) and landing (approach plates for the entire country), ForeFlight delivers the entire package. Areas you might touch in flight are larger and easier to hit on every well-designed screen. Constant feedback labels the information displayed and cues the pilot what mode is active: moving map, approach plate, chart or airport information. When you pull up an approach plate, it fills the entire screen and can be pinch-zoomed and panned around. A route displayed on the map can be filed as a flight plan with a single touch. Free for the first 30 days, $74.99 for a one-year subscription thereafter, www.foreflight.com
Garmin Pilot My-Cast
With a successful iPhone app, Garmin is well-positioned to carry their customers to the next generation of devices. Garmin says that the iPad app will deliver the same features and a better experience on the larger screen. We hope they're working on using the greater storage in the iPad to keep some of the data available offline. Price TBD, www.garmin.com
Carrying It

Dodo Case
$49.95, www.dodocase.com
If you're a pilot with literary aspirations (Ernest Gann, for instance), you probably want to order a Dodo Case along with the BrightLine Bag. This is a slightly retro way to wrap the iPad in a little protection. It holds the iPad snugly, is easier to hold on to and gives it a cover to flip close.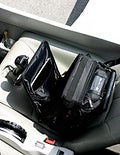 BrightLine Bags
$129, www.brightlinebags.com
Obsession can be such a wonderful thing. The idea of spending years perfecting a bag for pilots doesn't sound like fun to everyone, but that's what Ross Bishop did. His obsession will become your delight, as you find a pocket already in place for every item you need to carry as a pilot. Ross must be prescient, because there's a pocket that lets the iPad slide into the ideal place from which you can grab it without fully opening the bag in the cockpit.
---
Hangar B-17
This app simulates an instrument panel by using the GPS to create a PFD display (a trick it already performs on the iPhone). In the upgraded versions, it can link to X-Plane's desktop installations for training of emergency procedures. Before using it "to get out of the clouds when all else fails," it would be a good idea to go over no-gyro procedures with your CFII. Price TBD,
www.hangarb17.com
i-FLYTE TC
This flight-time and checklist app is the answer to the question: Why can't technology automate some of the mundane tasks a pilot does by hand? Using the GPS in your iPad to determine your flight time is a brilliant idea. Pilots can customize checklists for each aircraft they fly and have their log entries e-mailed to them. $7.99, www.i-flyte.com
Jeppesen
As the publishers of approach plates for the entire globe, Jeppesen looks at every possible platform. For instance, at press time, you could get a Solid-FX reader with all of the approach plates for a circumnavigation preloaded. The upcoming iPad application and subscription service will put their clear,legible plates onto another screen. Release date is mid- to late summer. Price TBD, www.jeppesen.com

Using the GPS in your iPad to determine your flight time is a brilliant idea. Pilots can customize checklists for each aircraft… and have their log entries e-mailed to them.

King Schools
John and Martha have progressed from live lessons to VHS, to DVD, to CD-ROM, the web and now onto the iOS platform. Each of their educational apps, such as Complete Airspace and Takeoffs And Landings, features the full King Schools video course in its entirety. For future iterations, we'd like to see bookmarking and note-taking capabilities. $29.99, www.kingschools.com
Logbook Pro
Once you have your logbook set up in Logbook Pro on your desktop, the iPad app allows you to see all your totals, enter flights and sync the data back to the desktop via NC Software's convenient custom-sync site. This is a smooth and elegant solution, eliminating another bit of dead tree you were dragging around. $29.99, www.nc-software.com
LogTen Pro
LogTen Mobile, the logbook iPhone app, has tremendous power, leveraging the data and detail kept on your desktop installation. LogTen should shine on the iPad. This version will allow a pilot to look at a full page of his or her logbook in the cockpit, a feature that isn't possible on the iPhone's small screen. Price TBD, www.coradine.com
---
MyRadar Pro
This could not be simpler: different views of a weather map with the current (10 minutes, animated) radar of precipitation in the immediate area. For two dollars, it's hard to go wrong, but there's also a free version of the application (with advertising shown). $1.99,
www.flightwise.com
Sporty's E6B
While the answers a pilot needs should all be provided by any of the decent EFB applications mentioned here, a good pilot knows how to figure it all out with a simple device like an E6B. Sporty's app is well-designed and takes advantage of the large screen on the iPad. $4.99, www.sportys.com
Sporty's Flight Review
This is perfect for a student pilot. It's Sporty's first effort to make their entire training library available for portable devices. There's a menu at the opening to select chapters and within those chapters are a handful of videos. Touching one fills the iPad's screen with Sporty's usual crisp and concise explanations of a topic. $29.99, www.sportys.com
WingX
Hilton Software's WingX provides the pilot with a moving map, weather imagery, approach plates, all the necessary FAA documents and route planning. The moving map shows the terrain in bright red (above you) and yellow (close to your current altitude) at a glance, giving you an awareness of your CFIT situation.
All map features, such as runways, airways and airspace, can be toggled on/off. You can file your flight plans through DUATS, view TFRs along your route and pull up an E6B to calculate density altitude. It's the Swiss Army knife of aviation apps for the iPad. $99.99, www.hiltonsoftware.com
X-Plane
We all have days when we'd like to go flying but something gets in the way. For no-go times, you can stay on the ground and fly the iPad. Austin Meyer and the gang at Laminar Research even have FAA-certified versions of the X-Plane simulator. With their app, you can fly the Cirrus Jet up through the marine layer and bring it around for a landing. $9.99, www.x-plane.com
iCub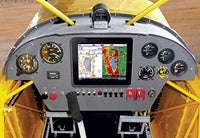 iCub
$99,000, www.icub.aero
SportairUSA saw the iPad not just as an opportunity to write an aviation application, but to fill a spot on the instrument panel of their new iCub. The Czech-built LSA comes equipped with a dock-mounted iPad, with iHud, ForeFlight and other aviation software preinstalled. At less than two pounds, the iPad isn't a significant dent in the weight-and-balance calculation. An iPod is mounted for the copilot.