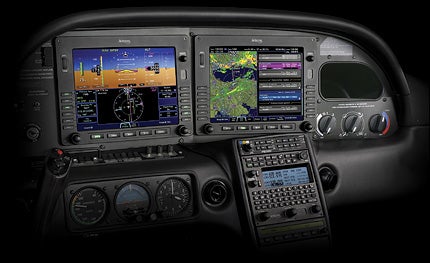 Avidyne Entegra Release 9
The world of panel-mount avionics has changed almost beyond recognition in the past 10 years, with glass panels and digital displays rapidly taking over from the "steam gauges" of the 20th century. Color displays are now common, and integrated systems that combine many functions in a single instrument are becoming the rule rather than the exception. In this buyer's guide, we profile products that range from simple VHF COM radios and backup attitude indicators to complete aftermarket panels and even upgrades for those with older glass.
Aspen Avionics' Evolution EFD1000 Pro displays provide full glass-panel PFD/MFD functionality in a 2.6-pound, 3.5×7-inch bezel backed by a 4.2-inch cylindrical "can" that fits in a standard three-inch instrument-panel hole. This allows virtually any aircraft to be upgraded from steam gauges to an up-to-date glass panel. The $9,995 EFD1000 Pro PFD functionally replaces the attitude indicator, airspeed indicator, altimeter, rate-of-climb indicator, horizontal situation indicator and radio magnetic indicator, and provides an autopilot interface that supports GPS steering when used with a compatible GPS navigator. The $7,995 EFD1000 MFD has a moving-map display with optional traffic and weather inputs, plus backup attitude and heading reference. Contact: Aspen Avionics, (888) 992-7736, www.aspenavionics.com.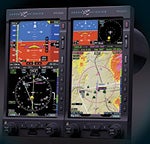 Aspen Avionics EFD1000 Pro
Avidyne is offering a special deal for prospective owners of late-model Cirrus aircraft: Under the G3-R9 program, if you purchase a late-model, low-time SR20 or SR22, it can be upgraded with full Entegra Release 9 glass-panel functionality for between $39,500 and $72,800. Older SR20s or SR22s with Entegra panels can also be upgraded to Release 9, which offers dual fully interchangeable flight displays, each of which can be configured to provide PFD or MFD functions, page and tab user interface, and an integrated flight management system. Optional features include synthetic and infrared enhanced vision, traffic and weather displays. Contact: Avidyne, (800) 284-3963, www.avidyne.com.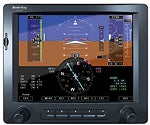 Bendix/King By Honeywell KFD 840
For those seeking an autopilot, the Century 4000 from Century Flight Systems provides roll and pitch control with heading hold, NAV intercept/track and coupled approaches (including ILS and localizer back course). Additionally, it's ARINC 429 GPS roll-steering compatible. Optional features include automatic trim, a flight director offering true three-axis functionality and a yaw damper. Pricing starts at $14,995. Contact: Century Flight Systems, (940) 325-2517, www.centuryflight.com.
With a lineage tracing directly to the FAA's Capstone Program in 2001, the FlightLogic EFIS from Cobham PLC (formerly Chelton Flight Systems) offers a PFD with synthetic vision, highway in the sky (HITS), level-A digital air data, a solid-state attitude heading reference system, an IFR-certified TSO-C145b Class Beta GPS/WAAS receiver, optional MFD with moving map and terrain, and optional remote heading and altitude bugs. It's compatible with many existing avionics and autopilots. Pricing starts at $51,540 for a single-screen (PFD-only) installation.

Century 4000
In the 20th century, general aviation autopilots were mainly single axis, tracking heading or a simple NAV signal. Some offered altitude hold, but advanced features like vertical speed selection were limited to high-end units mainly found on commercial aircraft. Not any more! System 55X from Cobham PLC (which acquired S-Tec) is a true rate-based, two-axis (roll and pitch) autopilot with advanced features including vertical speed hold, control wheel steering and altitude preselect. It also incorporates a GPS steering module. Options include a flight director, remote annunciator, slaved HSI and automatic pitch trim. Contact: Cobham PLC, (817) 215-7600, www.cobham.com.
---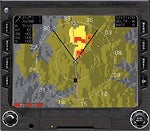 FlightLogic EFIS from Cobham PLC
Electronics International's MVP-50P is an engine analyzer and systems monitor with a full color display. The unit can monitor parameters including volts, amps, fuel flow, rpm (two inputs), pressure (six inputs), temperature (17 inputs) and fuel level (four inputs). A bar-graph display shows EGT/CHT for each cylinder. The unit also offers graphical weight and balance, customizable checklists and data recording with the ability to download through a front-panel USB connector. Pricing starts at $4,995 for a four-cylinder model. Contact: Electronics International, (541) 318-6060, www.buy-ei.com.
While glass-panel PFDs and MFDs have updated the presentation of flight and navigation data, even on the most up-to-date airplanes, it's still common to use steam gauges for primary engine instruments. The AuRACLE CRM2100 from Flightline Systems (acquired from Xerion) offers an alternative: full engine performance and status shown on a bright five-inch active-matrix LCD. Engine parameters monitored by the CRM2100 include manifold pressure, rpm, fuel flow, TIT, CHT, EGT, oil pressure and temperature, computed horsepower and percent power. The CRM2100 meets a wide range of TSO specifications and is STC'd through an approved model list for a wide range of makes and models. Prices range from $6,995 to $7,495. Contact: FlightLine Systems, (585) 924-4000, www.ultra-fei.com.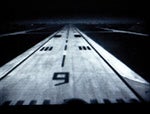 Forward Vision EVS-100
Forward Vision's EVS-100 is an infrared enhanced-vision system that can almost literally turn night into day, offering a view of terrain, runway obstructions and other hazards in total darkness. The system includes an infrared camera that can be mounted on the wing or fuselage of the aircraft, and either a panel-mount or portable display device. The EVS-100 is STC'd for some 160 different makes and models, including most Cessna singles, the Cirrus SR20 and SR22, and several helicopters. Pricing varies with installation. Contact: Forward Vision, (814) 757-5476, www.forward-vision.net.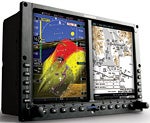 Garmin G600
Garmin has upgraded its $29,995 G600 aftermarket glass panel with synthetic vision and an adaptor that provides an autopilot heading reference. These are in addition to the existing G600 features, which include dual 6.5-inch displays providing PFD and MFD functionality in a single instrument bezel. Used in conjunction with a Garmin GNS 400- or 500-series GPS navigator, the G600 offers full glass-panel functionality, including attitude, heading, airspeed, altitude, rate of climb, simulated HSI/RMI and moving map.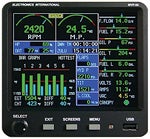 Electronics International MVP-50P
Options include electronic approach plates, traffic and in-flight weather displays. The G600 supports over 800 makes and models of Class 1 through 3 airplanes (maximum takeoff weight of up to 12,500 pounds) through an approved model list, and Garmin expects to add an option for TAWS-B compliant terrain and warning in the near future. Owners of singles and light twins in Class 1 and 2 (maximum takeoff weight of up to 6,000 pounds) have a less expensive option in the $15,995 G500, which offers similar features for more than 600 aircraft. Synthetic vision and the autopilot heading reference are optional in the G500, and the TAWS-B option won't be offered in the lower-cost model. Contact: Garmin, (913) 397-8200, www.garmin.com.
Honeywell's glass-panel PFD upgrade offering is the $16,995 Bendix/King KFD 840, which replaces a standard "six-pack" of steam-gauge instruments with a single 8.4-inch bezel that has a full-width simulated horizon, integrated attitude and heading reference, vertical altitude and airspeed tapes, separate course and heading knobs, and menu-driven "hybrid keys." It's designed to interface with a wide range of existing avionics, but if you want to replace those too, then the $13,995 Bendix/King KNS 770 offers IFR-certified TSO WAAS/GPS navigation, a 5.7-inch MFD and 10-watt standard (16-watt optional) VHF NAV/COM with options including electronic charts, weather radar and embedded terrain. Contact: Honeywell, (877) 712-2386, www.bendixking.com.
---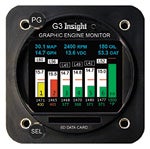 Insight G3
Color glass-panel displays may draw more attention, but 21st-century technology makes a difference in even single-function avionics, as illustrated by Icom's IC-A210. According to the company, it's the first panel-mount COM transceiver with an organic light-emitting diode (OLED) display, offering "many advantages in brightness, vividness, high contrast, wide viewing angle and response time compared to a conventional display." Other features include 760 VHF COM channels plus 65 receive-only NOAA weather channels, "flip-flop" tuning between active and standby frequencies, dual-channel monitoring, 10-channel memory and eight-watt transmitter power—all in a compact rack-mount case that's less than two inches high. The IC-A210 retails for under $1,500. Mobile and base-station versions are also available. Contact: Icom America, (800) 872-4266, www.icomamerica.com.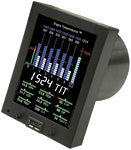 J.P. Instruments EDM-730
Insight Avionics offers the next-generation G3 GEM (graphic engine monitor) with a color-coded bar-graph display that shows engine condition at a glance with red/yellow/green traffic light–style coding. Beyond the color-coded display, the unit offers graphical leaning, built-in temperature-probe diagnostics, a prop-balance function (which, among other things "is a good detector of prop ice," according to the company), engine-vibration analysis, data logging on common SD data cards, and a turbulence display showing vertical and horizontal G-loads and periodic temperature vibration. Pricing starts at $3,000 for a four-cylinder unit, and upgrade pricing is available for owners of older GEM-series products. Contact: Insight Avionics, (905) 871-0733, www.insightavionics.com.
J.P. Instruments' EDM-730 and EDM-830 upgrade the company's earlier EDM-700 and EDM-800 products with rectangular color displays that may be mounted in vertical or horizontal orientation and fit in a standard 3.12-inch instrument-panel hole. Both units offer bar-graph displays for EGT, CHT and TIT, along with rpm, manifold pressure and a wide range of other engine parameters. The EDM-830 adds a percent-power display. Both units offer a front-mount USB jack that simplifies connection to a

PS Engineering PMA8000B
notebook PC for downloading recorded performance data or upgrading system firmware. Pricing starts at $1,695 for a four-cylinder EDM-730 without fuel flow. Upgrade pricing is available for owners of EDM-700 and EDM-800 units (the new devices are pin-compatible). Contact: J.P. Instruments, (800) 345-4575, www.jpinstruments.com.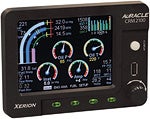 AuRacle CRM2100
While glass-panel PFDs offer pilots unparalleled ease of use and situational awareness, the backups used in case of PFD failure are typically conventional steam-gauge instruments, often in less than optimal locations. L3 Avionics offers an alternative in its new Trilogy ESI-1000 electronic standby instrument, which basically puts the top half of a glass-panel PFD on a single 3.7-inch display that fits in a standard 3 ATI instrument cutout. The display provides a simulated horizon with airspeed, altitude, heading and barometric pressure, and is a completely solid-state device that, according to the company, "installs easily and outlasts conventional spinning mass and vacuum instruments." The ESI-1000 has received TSO authorization and is STC'd for "most Part 23 aircraft." Pricing starts at $15,000. Contact: L3 Avionics, (800) 253-9525, www.l-3avionics.com.
Flying with partial-panel instruments in a 20th-century steam-gauge panel is challenging at best and dangerous unless it's regularly practiced. FAA Advisory Circular 91-75 authorizes an electric attitude indicator as a replacement for old turn and bank or turn indicator instruments, and Mid-Continent's 4300-series Lifesaver gyro goes beyond the basic specification with a built-in battery backup that makes the instrument completely independent of outside power sources. Even in the worst-case scenario of a combined vacuum and electrical failure, you have a fully functioning attitude indicator to keep from losing control—with built-in lighting, so you won't need a flashlight to see it at night! Pricing starts at $4,770. Contact: Mid-Continent Instruments, www.mcico.com.
---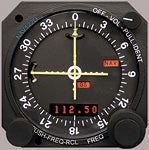 Narco NAV122D/GPS
Narco has updated its discontinued (but popular!) NAV122 in a new version as the NAV122D/GPS. It's a fully functional VHF NAV receiver built into a standard-sized CDI, with features that include 200 NAV channels, 40 glideslope channels, localizer and glideslope indication, and autopilot left/right and up/down interface, plus it's GPS-compatible. Prices for the NAV122D/GPS start at $3,500. Contact: Narco Avionics, (800) 223-3636, www.narco-avionics.com.
Even the humble audio panel gets a makeover for the 21st century. PS Engineering's PMA8000B, priced at $1,895, combines a six-place intercom; dual COM radios (with COM1/COM2 functions so that the pilot can talk on one channel and the copilot on another); easily configurable dual music inputs; a "smart" front-panel interface that can be used with portable entertainment devices, cell phones or audio-alerting devices; pilot-configurable controls; patented "IntelliVOX" automatic microphone level setting; and a built-in digital recorder. An alternate intercom mode allows passengers to talk among themselves without distracting the pilot from critical communications. And it's "plug and play compatible" as a replacement for Garmin's GMA 340. Contact: PS Engineering, (800) 427-2376, www.ps-engineering.com.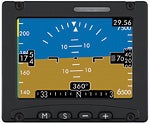 L3 Avionics Trilogy ESI-1000
ometimes 21st-century instruments offer functions that aren't obvious. Looking at a photo of Sandel's SN3500 primary navigation display, most people would probably assume it's a radar display. And this is one thing it does—but look closer, and you'll see traffic and GPS-based navigation data and heading. The SN3500 offers many of the features of an MFD in a package small enough to fit a 3 ATI instrument cutout. And with the optional reversionary attitude option, it can offer one feature that most MFDs do not: With the press of a button, it provides PFD-style simulated horizon, heading, airspeed and altitude. The SN3500 sells for $10,990 and requires a remote compass input. Contact: Sandel Avionics, (760) 727-4900, www.sandel.com.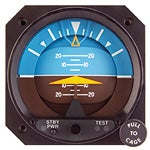 Mid-Continent Lifesaver Gyro
One huge advance in the modern instrument panel is the broad availability of satellite-based weather. WSI's InFlight offers graphical "NowRad" precipitation; extended lightning detection that includes North America and offshore locations; graphical METARs, TAFs, SIGMETs and AIRMETs; pilot reports; winds and temperatures aloft; and graphical TFRs. InFlight requires a WSI AV-300 satellite weather receiver, which typically sells for less than $5,000, plus a compatible MFD or other display device and a subscription. Various plans are available starting at $29.95 per month. Contact: WSI, (800) 872-2359, www.wsi.com.
By far, the most popular option for in-cockpit weather today is XM WX, a service of XM Satellite Radio that broadcasts U.S. NEXRAD precipitation radar, lightning, cloud-top images, METARs, winds aloft, freeze level and other data to compatible weather receivers. Install one (such as Garmin's $3,500 GDL 69) and a compatible MFD or other display, and you'll be ready to receive. XM WX is sold on a subscription basis, with plans starting at $29.95 per month. Contact: XM WX Satellite Weather, (202) 380-4000, www.xmwxweather.com.