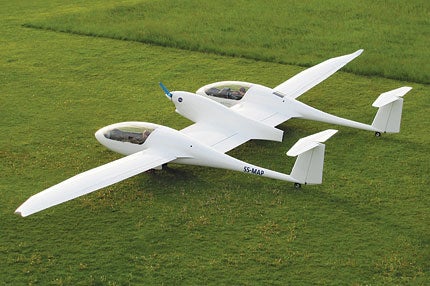 The two-fuselage, four-seat electric Taurus G4 has been entered by Pipistrel as a racer in the CAFE Green Flight Challenge.
Fantasy time: A shadow flashes across you as you walk toward the airport café. You look up. A plane cruises overhead, its prop whirring smoothly. A faint chirping whine reaches your ears. Ah…it's an electric. The elegant craft powers up and climbs away, still unnaturally quiet. Later it lands, rolls to a stop…and four people get out!
In truth, although electric-aircraft projects are popping up like mushrooms at airfields around the globe, a viable four-seat battery-powered cruiser, cut from the mold of a general aviation-style Cirrus SR22 or Cessna Corvalis, has yet to make an airport appearance.
That's about to change.
On a cold, gray day in Germany last spring, a sleek, super-lightweight composite aircraft lifted off from the runway on its first test flight, and flew 30 minutes. The PC-Aero Elektra One is the first in a line of electric-powered aircraft that includes a commercially produced four-seater—the Elektra Four.
The One stands out for its "normal" airplane appearance. This is no big-span motorized sailplane, exotic 200-foot solar-powered project or one-hour endurance hang-glider trike.
Dreamtime To Real Time
Hold on to your electric beanies, flight fans: There's arguably no more exciting sector in aviation today. You can buy, right now, several electric-powered aircraft, notably the Pipistrel Taurus Electro G2; Lange Antares 20E; Alatus-ME self-launching sailplanes; Icaro Elektro Swift flying wing; U.S. pioneer Randall Fishman's ElectraFlyer Trike and the Icaro 2000 Pit-trike from hang-gliding champion Manfred Ruehmer (who also developed the Swift).
The Elektra One, three years in development by Romanian engineer Calin Gologan, will likely join that list, packaged with a solar- power-generating hangar, for around $150,000.
The One is meant to appeal as a cruiser-style airplane. Its tapered wing delivers a 25:1 glide ratio, boosting the One's projected endurance to three hours per charge, and bestowing a maximum cruise of 87 knots and range of 215 nm—all on an 18 hp motor.
Another "cruiser" project, the Green Flight program, is a joint venture of Cessna Aircraft and Bye Energy. The goal: an electric Cessna 172. The project has been quiet since last year, but the demonstrator, evaluating both electric and diesel/electric hybrid power, will surely change the face of aviation if it comes to fruition.
---
A Gathering Tide
As an industry, electric flight is still in toddler mode. Batteries provide, pound for pound, a mere fraction of the energy density of gasoline (see sidebar). Therein, as the Bard said, lies the rub: The culprit is weight, because one pound of avgas has roughly 40 times the energy delivery of a pound of battery.
Up to now, electric-aircraft airframes maximize flight performance through highly efficient design to compensate for that lack of sufficient electrical storage capacity. The Oil Age will, in time, give way to the Clean Power Age. For now, Li-Ion technology currently holds the performance-leading edge for mass-produced batteries. For electric aircraft to become common, battery efficiency will need to double, then double again and double again.
Still, two-seat electrics with one-hour-plus endurance already are in production, with more on the way. Randall Fishman's ElectraFlyer-X, a two-seat composite LSA with lithium powerpacks and a newly developed motor, should fly this year, possibly in time for Oshkosh AirVenture 2011.
The Electric Envelope, Please…
To spur recognition and development, several major awards and competitions now offer substantial money prizes. On the last day of this year's AERO e-flight-expo in Germany, the Berblinger Flight Competition divided 100,000 Euro ($131,000) among three proven aircraft, each with a unique application of electric power: the elegant, single-seat Lange Antares 20E self-launcher sailplane (the world's first certified electric); Eric Raymond's record-setting, solar-powered Sunseeker; and Manfred Ruehmer's Elektro-Swift, an ultralight flying wing with streamlined pod and folding pusher prop.
The 20-meter-span Antares was cited as "the only (electric) aircraft that fulfils the strict European Aviation Safety Agency (EASA) certification requirements…life expectancy of 20 years or 3,000 charge cycles." More than 70 production Antares have been delivered.
Of the three, only the slender, graceful Sunseeker isn't for sale…yet. It flies solely on electricity generated by wing-borne super-lightweight solar cells. Raymond is currently working in Slovenia on the 23-meter span (75 feet) Sunseeker Duo two-seater, which will eventually be marketed.
The Elektro Swift, produced by Italian hang-glider company Icaro, takes another tack. It's a highly optimized, single-pilot, lightweight soaring machine based on an excellent-performing rigid-wing hang glider.
Also presented were Erik Lindbergh's Lindbergh Electric Aircraft Prize (LEAP) awards. Three categories (and $60,000 in prize money) went to the Solar Impulse for Outstanding Achievement; Pipistrel Taurus Electro G2 for Best Electric Aircraft (it's the first production two-seater electric); and Best Propulsion System, to LZ for its Front End Sustainer (FES) folding prop/motor retrofit package for sailplanes.
---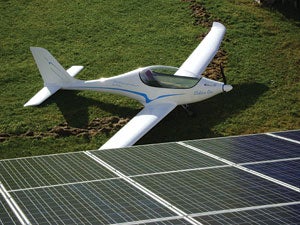 The Elektra One has a projected endurance of three hours per battery charge, with a max cruise speed of 87 knots on an 18 hp motor.
Frontrunning Electrics
Gathering big headlines is the 204-foot-span Solar Impulse, which recently flew for 26 hours (on energy stored by day-for-night cruising) at the ripping speed of 31 mph, in preparation for its around-the-world jaunt in 2013. That event should create major global attention for electric flight. The aerodynamics are impressive. Weight: 3,527 pounds—including 12,000 solar cells. Power: four 10 hp motors. The Wright Flyer had a single 12 hp engine.
Pipistrel, the prolific Slovenian light-aircraft manufacturer, sells its Taurus Electro G2, a two-seater with an integrated solar cell-bedecked trailer, which charges the batteries in five hours, no matter where the airplane sits.
The company also has entered the Taurus Electro G4, a two-fuselage, four-seat electric racer for the CAFE Green Flight Challenge, and recently debuted the Panthera, a futuristic low-wing, four-place speedster that will be available in three power signatures: gas, hybrid and pure electric, with a 145 kW (195 hp) motor for a 118-knot cruise speed.
The Toyota Of Electric Flight?
Then there's Yuneec International, the Chinese company with deep financial resources and 470,000 square feet of factory space that blew everybody's mind at Oshkosh '09 with the E430, a 45-foot-span two-seat S-LSA prototype, currently still in preproduction.
A hangar full of designs and electric power systems are in development, from the sublimely beautiful E430 to the E-Spyder (Tom Peghiny's highly refined Flightstar ultralight) to the Apis and E-Viva high-performance motorgliders (single and two-seat), a hang-glider trike, hang-glider and paraglider power harnesses and (yes, there's more) the E1000, a four-seat electric airplane. The E1000 concept proposes two electric engines mounted in tandem. Alright, alright, you had me at E430.
Sadly, the prototype E1000 crashed at press time, killing its designer, noted aerodynamicist Martin Wezel. His genius will be missed, especially at Yuneec, where he was deeply involved in several projects.
The latest word on the E-Spyder comes from Tom Peghiny. "We've optimized the propulsion system, developed the motor-management system, worked in new materials to reduce weight, and improved the aerodynamics of the wing to turn it into a viable commercial product. Tian (Yu, Yuneec's chairman) has wisely chosen to invest in the best practices for the company rather than rushing to market. They've taken a step back: He's creating a whole new airplane company, so practices and proper procedures must be set."
Yuneec isn't the only game in "electric" town. Several companies, some with significant funding such as the eGenius (Airbus) and the Green Cri-Cri (European aviation conglomerate EADS) are grubstaking ongoing research.
---
Big-Bucks Electric Marathon
Joining the competition money prize list is the 2011 CAFE/NASA Green Flight Challenge, with a whopping $1,650,000 prize to be awarded. Comparative Aircraft Flight Efficiency Foundation (CAFE), presents a daunting challenge: The contestants must fly a 200-mile course in no longer than two hours. Here's the catch: They can use no more than the energy equivalent of a single gallon of gas per occupant. The plane that uses the least amount of power, whether it's gas, biodiesel, hydrogen (in an electricity-producing fuel cell) or battery, will be the winner.
As of press time, half of the 12 confirmed entries for the July race were pure electrics:
• PC-Aero Elektra One
• Feuling GFC
• Windward Performance GosHawk
• eGenius (flown by Sunseeker's Eric Raymond)
• Phoenix Air's PhoEnix (one-off mutation of the LSA motorglider, flown by Jim Lee). It's a two-seater, so it can use up to twice the maximum energy potential of one gallon of gas.
• Pipistrel Taurus Electro G4. With four seats, legal to carry up to four gallons' worth of electrical energy.
Later in the month, EAA's Oshkosh AirVenture will offer its own Electric Flight Challenge, and award $60,000 to the individual or corporation demonstrating the most promising level of achievement in electric-powered flight. Not to be outdone, Europe has the CAFE-like Paris-Madrid Green Aviation Challenge to reward the aircraft that uses the lowest amount of energy on the trip.
Building Up A Charge
So many projects, so few pages: Several sailplane manufacturers, capitalizing on models that stay aloft with a miser's expenditure of fuel, are converting them to electric power, or creating new self-launcher models.
Noteworthy are Italy's Alisport Silent 2 Targa single seater, sporting a retractable propeller, the Air Energy AE-1 Silent with a 13 kW (17 hp) motor that brings 400 fpm of climb, and the Windreich Arcus-E, a two-seat production sailplane with a 42 kW motor (56 hp) and enough battery storage for up to one hour and 10 minutes. Time to get that glider rating!
Many also are available, gas-powered or unpowered. One, the Alatus-ME ultralight sailplane, can be packed up like a hang glider and carried on a car top, yet has an impressive 27:1 glide ratio and a 127 fpm sink rate. Current cost: $50,000.
R&D continues apace: Long-time kit maker and Oshkosh 2010 LEAP winner Sonex first flew its electric Waiex in late 2010. Helicopter giant Sikorsky has its Project Firefly electric eggbeater demonstrator, which may fly this year. Boeing has its Fuel Cell Demonstrator (FCD) to explore the utility and applications of fuel cell-powered electric propulsion. Another fuel-cell bird is the Italian SkySpark, which flew successfully in 2009.
---
Aircraft giant Airbus has a stake in electric research with eGenius, (a CAFE race competitor). The two-seater aircraft was designed at the University of Stuttgart. The side-by-side eGenius has 60 kW (80 hp) of power, a max takeoff weight of 1,870 pounds, 250-mile range and 127-knot cruise. Fuel-cell power is also on the Airbus R&D agenda.
And how can you ignore the tiny, toy-like—but fully aerobatic—Cri-Cri from EADS Innovation Works, which takes a different approach to electrifying an existing airframe requiring minimal power to fly. Its four small brushless motors with counter-rotating props bring 1,000 fpm of climb and 30 minutes of air time. The fun project is purposed as a low-cost test bed for electric technologies.
So much more is going on: higher power-to-weight motors, electric-powered parachutes and trikes on the market, and companies like France's Electravia—with a line of existing and planned electric aircraft, including a two-seat Horten-style flying wing! Ah, those French.
Here's a snapshot of things to come. Someday, you'll find yourself reading a specifications box in an aircraft pilot report, and notice the following entry: FUEL BURN: N/A.
Energy Battle: David Vs. Goliath
It helps to understand the huge technical challenge electric flight still faces by comparing the energy densities of gasoline and batteries.

Lead-acid batteries like those in boats and cars, have been around for 150 years. They're cheap and relatively environmentally friendly to fabricate and recycle, compared to lithium-based (Li-Ion—lithium-ion, and LiPo—lithium-polymer) batteries.

Lead acids store around .6% the energy density of gasoline. Running the numbers tells us it takes 167 pounds of batteries to hold the same energy as a single pound of gas.

Lithium batteries as typically used in cameras, cell phones and radio control models store around four times as much energy as a lead-acid battery, but cost several times more per watt-hour. That still means an airplane needs to carry more than 40 pounds of batteries for the equivalent energy of a single pound of gas…that's less than one quart!

Looked at another way, that 25 gallons you fill up a typical LSA's wings with would require 6,000 pounds of lithium-technology batteries…and more than 10 tons of lead acids.

No wonder research into improving battery energy density is feverish around the world: Even a doubling of storage capacity would deliver multiple-hour flights. Many observers predict we'll have affordable, mass-produced battery technology with just that—two times the current capacity—by 2015.

Meanwhile, many R&D groups worldwide have already demonstrated increases up to four times in energy density for exotic research projects.

There's another factor: The best internal combustion engine converts only 25% to 30% of the energy potential of gasoline, whereas brushless electric motors operate at 80% and even higher efficiencies. Even so, we need more, and dramatic, breakthroughs in battery capacity to close the gap.

Demand creates industries: Will the move toward hybrid and electric cars and viable electric aircraft provide enough market incentive for long-range, fast, cargo-carrying electrics in our medium future? Nobody knows the answer yet…but many are bankrolling research in the expectation of a strong, "Yes!"