On a vast mesa west of Albuquerque, N.M., where the signs of civilization begin to dim, the terrain looks not unlike the surface of Mars. In fact, if you took a photograph with the ancient volcanic cones and red dirt in the background, it could pass as something NASA's Curiosity rover just shot of the Martian landscape.
Double Eagle II Airport (AEG) is out here, and it's where Aspen Avionics does flight-testing of its revolutionary electronic flight information systems (EFIS). I'm here to see how Aspen operates, and to see what these brilliant minds are working on next, to see where avionics may be going in the future.
Aspen has always behaved like a start-up operation—a trait they proudly cultivate to this day. Founded in 2004 by former employees of Eclipse Aviation (who manufactured the Eclipse 500, one of the very first very light jets), Aspen Avionics set out to create advanced avionics that could be retrofitted into legacy cockpits at an affordable price.
Funded heavily by venture capital, the company's first success was in 2005 with their AT300 Hazard Awareness Display, vertical speed indicator (VSI) and terrain avoidance system. The company grew quickly, launching their flagship product in 2007, the popular Evolution EFD1000, "drop-in" glass cockpit.
The EFD1000 revolutionized the GA cockpit in many ways. First, retrofitting the unit into a "steam gauge" panel was a simple task. The unit literally slides into a standard three-inch instrument slot.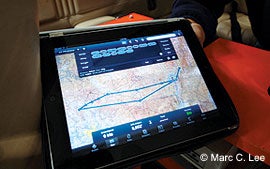 Connected Pilot users can create or modify flight plans—even adding waypoints— from smart devices like the iPad, then load them into the GPS wirelessly.
Buyers were attracted to the unit's relative affordability (as avionics go), and especially to the EFD's unprecedented contributions to cockpit awareness. It packed a lot into a small space.
Best of all, the unit could be added to an aircraft in separate MFD "modules," which gave the Evolution system something of a modular, "Lego-block" feel. It beautifully replaced steam gauges and added a whole lot more, without having to butcher the panel and rewire the aircraft.
Today, with more than 5,500 aircraft installations globally, Aspen Avionics' EFD1000 has become a standard-bearer in the industry.
Desert Evolution
Aspen's headquarters is a nondescript business park within the environs of metropolitan Albuquerque. Dominated by the massive Sandia Mountains to the northeast, the city has been on the fringes of scientific development since the nearby Sandia Base was established in 1946 as the top-secret center of the Manhattan Project—the United States' development of nuclear weapons.
---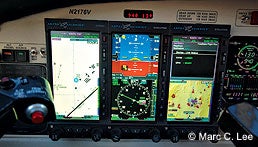 The upper right of the display shows the system connecting to the backbone of Aspen's "Connected Panel" product—the CG100 wireless module.
Aspen chose this location for the dry desert climate and 3,420 hours of sunny flying days per year it offers. Although the headquarters office buzzes with activity, the really interesting stuff—the flying—happens at Double Eagle Airport.
Aspen has a small facility at Double Eagle. It's all in keeping with the company's start-up culture. There are no gleaming laboratories or complex research facilities anywhere in sight. Driving up to the large hangar, the only sounds you hear are tumbleweeds brushing the chain-link fence and the distant calls of coyotes and buzzards. It's the perfect place to test avionics.
"Hi! Nice to meet you!" says Tom Gray, with more enthusiasm than should be allowed this early in the day. Gray puts out his hand and I'm welcomed into Aspen's inner world. Their hangar is quiet this morning in anticipation of our test flight.
Gray is one of Aspen's test pilots and engineering representatives, and he's responsible for running their constantly evolving products through real-world flying scenarios.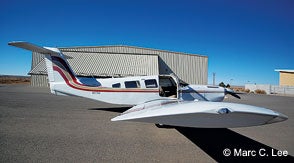 Aspen utilizes a specially equipped Piper Lance to test many of its avionics products.
Gray is also an active flight instructor—something he does for the pure enjoyment of it—and he speaks and flies with the calm demeanor of someone who has spent a lot of time in the air. The Aspen product, I learn, is constantly being improved and tweaked to yield the absolute best performance, accuracy and features. Aspen functions as a true team environment, with technical specialists intermingling with aviators to create a synergistic whole.
Right next to Gray is Juan Escobedo, Senior Aircraft and Avionics Technologist. Although Escobedo isn't a pilot, he's a genius at integrating Aspen's technical features into the cockpit environment, and spends almost as much time in the air as Gray does.
He's also an expert in the FAA's certification quagmire, and knows what the feds expect and how to test components to meet their exacting standards. Escobedo will accompany us this day as we wring out some of Aspen's newest goodies in their specially modified Piper Lance.
Flying Connected
The Lance is one of several test beds for Aspen's products. It has a custom panel that's modified for the task of testing avionics. It's configured so components can be added, removed, selected and mixed in various combinations. To my musician mind, the panel reminds me of the patch bays used in recording studios, allowing the engineer to select a certain component or bypass it in favor of another, or to run several at once.
---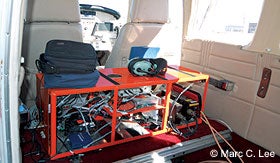 An electronics bay takes up the second row of seats in the Lance. The rack includes components used to calibrate and accurately test avionics.
The Piper is equipped with a large electronics rack replacing the entire second row of seats. It contains different types of test equipment, power supplies, radar altimeters, sensors, and other outboard components.
Lately, Aspen has been refining their new Connected Panel product. Connected is one of the new technologies I'm here to see. Connected Pilot is the first in the series of the company's revolutionary Connected Panel product line. What it does is provide a secure wireless link between panel-mounted avionics, like GPS navigators, with portable smart devices like Apple's iPad.
If that didn't grab you, you need to step back and realize what this technology means. First, Connected Pilot is able to receive data from almost any panel-mounted GPS navigator. If you use the popular Garmin GNS 400W/500W series navigators (like the ubiquitous Garmin 430W), Connected Pilot lets you enter and synchronize flight plans between it, a smart portable device (like an iPad) and flight planning apps that are "Connected-enabled."
The technology creates a wireless link that allows your smart device to communicate with your Aspen Evolution Flight Display and your avionics network. You can create a flight plan at home on your iPad in an app like ForeFlight, WingX or others, then wirelessly upload that to your Garmin 430W, and then fly it with your Aspen display. Afterward, you could wirelessly retrieve the trip's flight data and process it in the comfort of your easy chair.
I got to see the power of Connected in action during a flight in the Lance. Gray set up a flight plan on his iPad while in the hangar. Once in the airplane, Gray showed me how—at the press of a single button—his iPad connects securely (with encryption) to the Lance's Garmin 430W and feeds it the multiple-waypoint flight plan. I accept the flight plan by pressing a button on the 430W. Instantly, the Evolution display changes, and the whole plan is loaded. Total elapsed time: maybe three seconds.

Even more impressive is the wireless connection. Once in the air with the autopilot flying the plan, Gray hands the iPad to Escobedo, sitting in the back row of the Lance. Escobedo modifies our flight plan by adding a waypoint. In seconds, I receive the prompt to accept or reject his flight plan update, and after pressing the acknowledgement, I feel the Lance banking as the autopilot follows the newly loaded plan. It was true "backseat flying." Other than a button press, I never touched the panel or controls.
---
Connected doesn't use anything as artless as Bluetooth. Instead it relies on the "Cloud," encrypted Ethernet and a large dose of proprietary "secret sauce" technology to make the whole thing work. "The FAA was very nervous about non-certified portable devices connecting to certified avionics," says Gray. "So we had to prove to them this technology was secure and absolutely bullet-proof before they would certify it."
The power of seamlessly integrating the whole flying experience seems limitless. Imagine tuning your radios, loading and modifying flight plans, retrieving and analyzing performance data, recording flight profiles and more, all at the touch of a screen on a smart device outside of the cockpit. Until now, it has never been done, and Aspen is at the forefront of the technology.
Culture Of Collaboration
Marketing Manager, Angela Anderson, is my guide and host at Aspen Avionics, and she's the face of Aspen for many pilots who frequent Oshkosh or other aviation shows throughout the year. An experienced pilot from an aviation family, Anderson's genuine enthusiasm is further evidence of Aspen's entrepreneurial culture. "We operate very much like a small company," she says, "and we listen very closely to our customers."

The power of seamlessly integrating the whole flying experience seems limitless…until now, it has never been done, and Aspen is at the forefront of the technology

Earlier, Gray had told me how many of the modifications being tested in the Lance are a direct result of customer comments at the various aviation shows. Anderson and her team spend most of their Oshkosh time at the "North 40" listening to suggestions from all different types of pilots, then bringing them back to Albuquerque to become possible system enhancements.
Aspen's entrepreneurial culture extends throughout the company. They've become one of the first avionics companies to truly collaborate with competitors to give pilots a better and safer cockpit. Their work with Avidyne on the DFC90 digital autopilot has yielded tremendous technology gains and more features in the cockpit. Aspen is now working directly with Bendix/King on the KSN 770 project to provide deep integration with it. Bendix is but one of nearly 20 companies Aspen is collaborating with to create a better product. "Building integrated products is baked into our DNA," explains Brad Hayden, Aspen's VP of Marketing. "It is the key to general aviation's future, and we openly promote integration with other companies."
---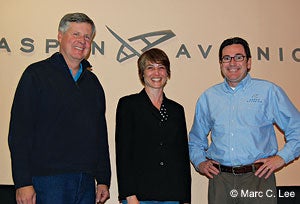 Aspen President and CEO, John Uczekaj, with Angela Anderson and Brad Hayden from the company's marketing team
Aspen pays attention to even small details, like sourcing many of the Evolution display's parts to local manufacturers. The company's size allows them to react to changing needs quickly.
Recently they decided to completely revamp their production assembly line for efficiency. Where such a process could take months or more for most companies, Aspen Avionics did it over a few days. "We have to innovate constantly to stay in the game," adds Hayden. "Our entire culture is built around supporting the customer."
As to the future, a recent infusion of venture capital funding will allow Aspen Avionics to continue their innovating trend. Hayden hints to greater integration and unprecedented capabilities in their avionics systems. Aspen's Connected Panel product will continue to evolve, allowing secure, wireless communication to and from more devices. "We have big stuff coming," Hayden tells me. "We will introduce products that use the aviation data stream that we uncovered with the Connected product, and expand it in many ways." Judging from the flight testing out at Double Eagle, the future for pilots is exciting.
Hayden, Gray and everyone I meet at Aspen speak to the power of collaborating and listening to the company's large customer base. "If you see something you feel needs improvement, let us know right away," I hear in every corner of the company.
Although a lot of companies listen to their customers, Aspen does it with a sense of zeal and immediacy. Also, working together with their competitors has become a way of life at Aspen. "Our displays have become smart devices, and we want them to become even smarter," Hayden finishes. "And we welcome any conversation with other manufacturers."
Aspen Avionics' "secret" is really no secret at all. They listen closely to pilots at the grassroots level, and create products for them that make flying safer and easier. Their enthusiastic collaboration with others is giving GA—and soon the rotorcraft and military world—some great products.
Just as physicist Isaac Newton promoted nature's simplicity, Aspen Avionics' test pilot Tom Gray reveals theirs: "What we do is take all that data from GPS, autopilots, sensors and electronics," he smiles, "and make it relevant to the pilot."